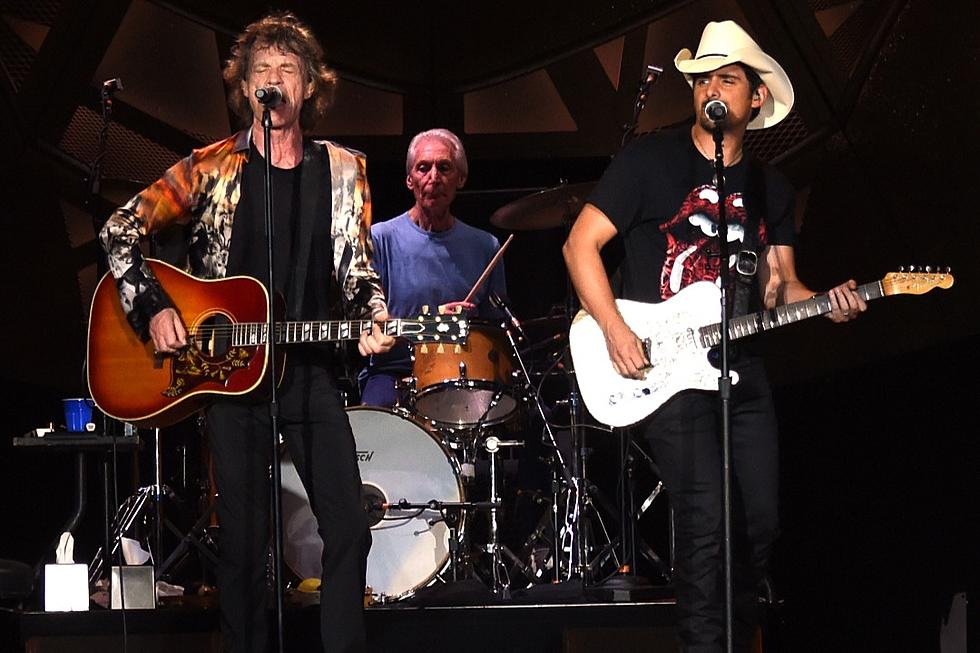 Hear Brad Paisley's Live Collab With the Rolling Stones on 'Dead Flowers'
Rick Diamond, Getty Images
Brad Paisley is featured on the Rolling Stones' new album Honk, performing the iconic rock band's "Dead Flowers" with them live.
The first time Paisley collaborated with the Stones was at a Philadelphia concert in 2013, and he must have impressed them. After singing "Dead Flowers" with the band on their 50 and Counting Tour, they performed it together at his own tour stop in Nashville in 2015.
What's being released is a live recording of the 2013 tour stop version.
"Take me down little Susie, take me down / I know you think you're the queen of the underground / And you can send me dead flowers every morning / Send me dead flowers by the mail / Send me dead flowers to my wedding / And I won't forget to put roses on your grave."
Paisley is a fan of the Stones, and they've greatly influenced his brand of country music. "I've been ripping the Rolling Stones off with every song I write in some form or another. We'll all ripping them off, every artist who's ever played anything near what they do," he previously told Rolling Stone.
In addition to Paisley, the Honk album features collaborations with Foo Fighters frontman Dave Grohl on "Bitch" and Florence Welch of Florence and the Machine on "Wild Horses." Honk is the Rolling Stones' biggest hits from every studio album, with 36 studio recordings and 10 live songs in total.
Paisley and frontman Mick Jagger have worked together on a few occasions, including on a song called "Drive of Shame" for Paisley's 2017 album Love & War. Now Paisley is gearing up to tour with support from Chris Lane and Riley Green this spring and summer.
The Rolling Stones' 2019 tour has been postponed due to Jagger's health.
Listen to Brad Paisley's Collab With the Rolling Stones on "Dead Flowers"
Country Music's All-Time Best Guitarists: