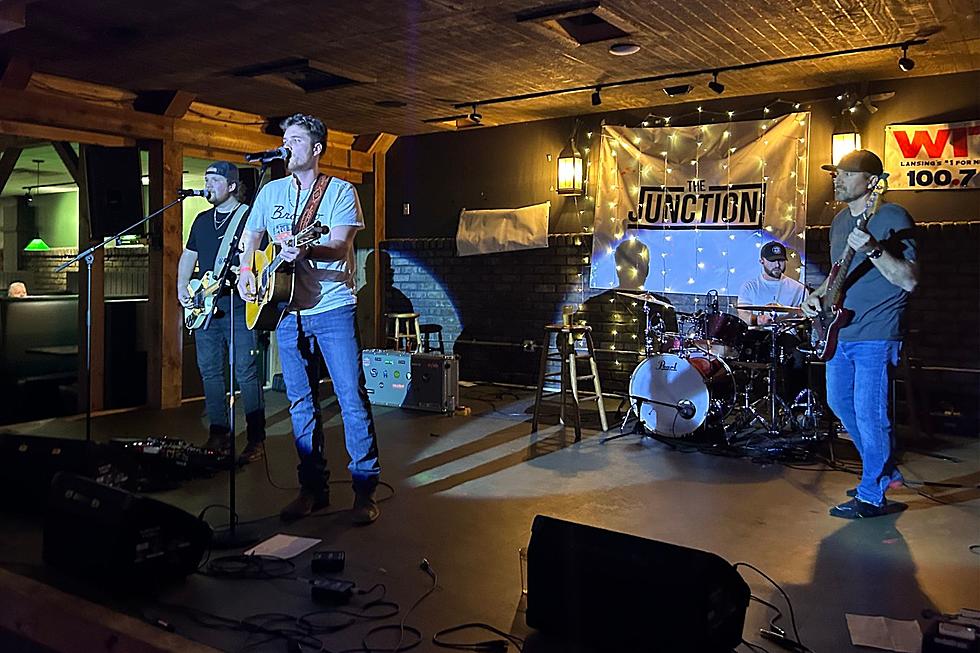 WITL's Jam at the Junction 2: Jordan Harvey, Drake Milligan and 12/OC
Photo courtesy of Dawn Steele
Jordan Harvey, Drake Milligan and 12/OC brought Nashville to Lansing at the second Jam at The Junction! The Junction is a great place for live music with a huge stage, booming sound system and a spacious dancefloor!
WITL's MJ, JR and Dawn Steele chatted with people who were lined up outside before the doors even opened. Inside, the bands had their soundchecks and then took to the pool tables for some pre-show fun!
First to the stage with their guitars was Jordan Harvey and Drake Milligan (with Ryan De Mers on backing vocals and guitar). Jordan and Drake took turns playing song after song after song.
Jordan played his original tunes including "Alabama Girl", plus a few covers like "Jackson" from Johnny Cash and a bit of "I'm Gonna Be (500 Miles)" from The Proclaimers - which his mom made him promise he'd do at every show...and he did...and everyone sang along! He also shared his story of getting engaged in front of a castle in his home country of Scotland and ended with "Along for the Ride".
Drake Milligan, along with Ryan De Mers (from Michigan!) on guitar and backing vocals, brought his Elvis-like swagger to the stage. He took third on America's Got Talent last year and really knows how to work a crowd! He rocked hit after hit including "Over Drinkin' Under Thinkin'", "Kiss Goodbye All Night" and his big hit "Sounds Like Something I'd Do".
The dancefloor was pretty full by the time 12/OC took the stage. This is their second time playing at Jam at The Junction. Since their first trip to Lansing in February, these boys from Maine have built a following in mid-Michigan - which was apparent by fans wearing their 12/OC hats and shirts.
They played original tunes like "Shoot You Down" and their new release "Mama's Right" and covered songs including the Big & Rich hit "Save a Horse (Ride a Cowboy)", "Hard to Handle" by the Black Crowes, Jason Aldean's "She's Country", and "Country Girl (Shake It for Me)" by Luke Bryan. The most surprising cover of the night was their version of "In the Air Tonight" by Phil Collins that completely rocked. They also did a couple of tunes from Luke Combs including "Beer Never Broke My Heart" on which WITL's JR got on the mic to sing a verse!
12/OC came back to the stage for an encore - Kid Rock's "All Summer Long" - and then stayed around for photos with fans!
One show attendee, who was admittedly just there to hang out with friends said, "I walked in barely liking country music and I walked out a huge country music fan and listened to WITL the whole ride home".
Time to start planning for Jam at the Junction 3!
100.7 WITL's "Jam at The Junction" II
100.7 WITL held another "Jam at The Junction" in Lansing on May 16, with special guests Jordan Harvey, Drake Milligan and 12/OC. Here are some pictures from the event!
Michigan's Country Concerts in 2023
2023 is shaping up to be an awesome year for country concerts. Some of the biggest names in the game have already announced tour stops, like Luke Combs, Morgan Wallen, and Carrie Underwood. Take a look at the list below and find out if, when, and where your favorite country artists will be coming to town.