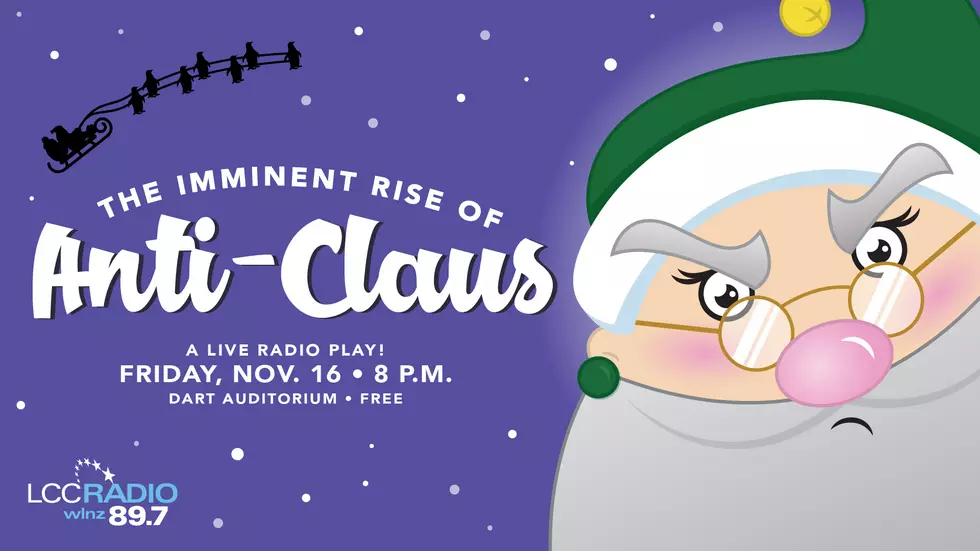 LCC Radio Play Will Again Be A Highlight Of Silver Bells
Photo courtesy of LCC Radio
For thirteen years, and as a part of Silver Bells in the City, LCC Radio 89.7 WLNZ has taken a trip back to the Golden Age of Radio and has aired plays that are reminiscent of the days when radio was our nation's only form of broadcast entertainment.
In those days, which was around the 1920's through the 1940's, you could find a vast assortment of entertainment on the radio from sports to soap operas to games shows to radio plays, just like the one you'll hear on LCC Radio Friday night at around 8 p.m.
In the past 13 years the station has aired their versions of everything from "A Christmas Carol" to "Little Shop of Horrors" and this year's broadcast is "The Imminent Rise of Anti-Claus". It's an original radio play created by WLNZ station manager, Daedalian Lowry who again will direct this year's radio play.
The play is produced in conjunction with long time Lansing broadcast professional and innovator Dave Downing and his Audio Air Force and features some really talented actors who like lending their voices to these plays.
The premise of "The Imminent Rise of Anti-Claus" is that St. Nick's estranged aunt tries to take over Christmas by making the world go topsy...wait...no spoiler alerts here. If you really want to know what's going on with "The Imminent Rise of Anti-Claus", and I hope you do, then you should do one of three things. On Friday night at 8 p.m., either tune into 89.7 FM, listen to the WLNZ online stream, or if you're at Silver Bells, come on down to Dart Auditorium and catch the play as it's being broadcast. Admission is free and it truly is a great way to cap off your Silver Bells experience. I know this to be a fact because my family has been doing it for years.
Oh...by the way...it has also been a real honor of mine to play characters in some of these great radio plays, and my friends at LCC Radio have invited me back to be a character in this year's "The Imminent Rise of Anti-Claus", too. I am happy to tell you that in this production I play the role of the "Jolly Old Elf".
Okay...wait a minute. Make that the role of the "Jolly (not so) Old Elf". I mean no disrespect to Santa...but c'mon...the guy's been around forever.
CHECK OUT THE NEW WITL APP AVAILABLE AT THE ITUNES STORE AND GOOGLE PLAY!**
Listen to Chris Tyler every weekday afternoon from 3pm - 7pm on 100.7 WITL.
Follow Chris on twitter @ChrisTylersays.
Email Chris at chris.tyler@townsquaremedia.com.