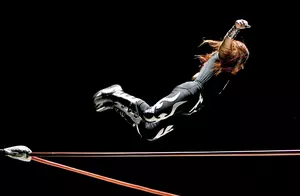 Pro Wrestling Is Coming to Williamston
Getty Images
Remember a wrestler named "The Sheik"? He's probably the Lansing area's most famous pro wrestler. Back in the 60s through the 80s, he was wrestling royalty and wrestled guys like Bruno Sammartino, Dick the Bruiser, Fred Blassie, Chief Jay Strongbow and Andre the Giant, just to name a few. His signature finishing move was the "Camel Clutch". The Sheik's (totally different guy from "The Iron Sheik) real name was Ed Farhat. He passed away in 2003 and, in fact, is buried in Mount Calvary Catholic Cemetery in Williamston.
His son is Eddie Farhat Jr. Eddie is the promoter for the All World Wrestling League and according to the Lansing State Journal, will bring "Big Time Championship Wrestling" to Williamston's Red Cedar Jubilee. The matches will take place in the park near the stadium, now known as Howard Dahlstrom Memorial Park, on June 22nd.
And there's more good news - the AWWL may be on  CW 5 TV in Lansing, soon - we'll keep you updated.
Banana Don and Stephanie McCoy amuse and thrill you every weekday morning from 5:30 – 10AM on the radio at 100.7 WITL.
Noted zythologist and all-around fun guy Banana Don can be reached via email at don.jefferson@townsquaremedia.com and on Twitter at @WITLBananaDon and @WITLFM. Also, Facebook friend Banana Don and Stephanie at Facebook.com/BananaStephanie and Facebook.com/WITLFM.
Plus – check out the new WITL app. It's much better than any other app – ever.