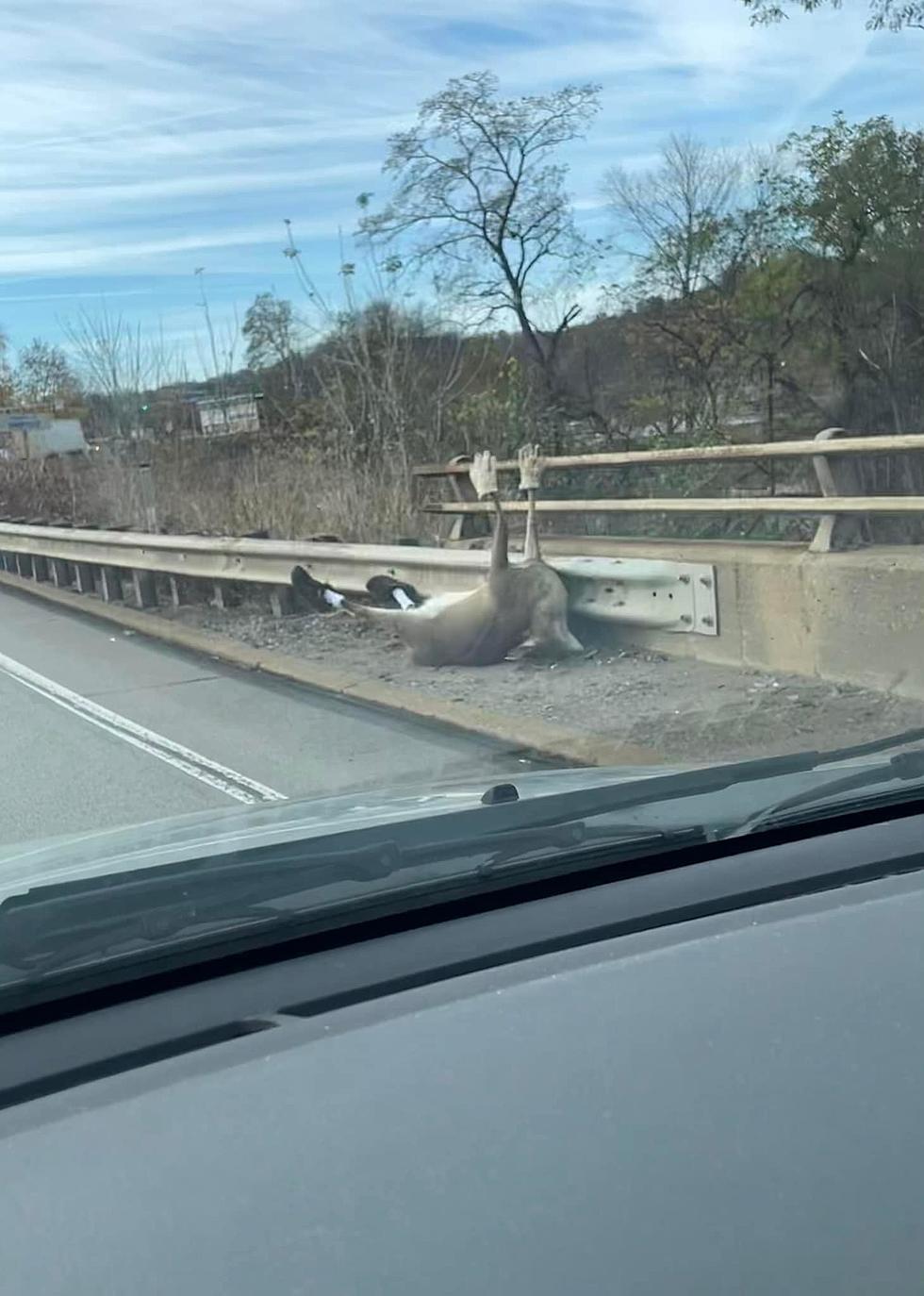 This Deer Gets A Special Kalamazoo Makeover
Danny Primer Facebook
As the hunting season commences, there will be more deer frequently running though the residential neighborhoods as they are pushed out of their natural habitats. As the season draws on, deer continue to run from the impeding danger, which places them in more danger as they run through the streets with no regard to the cars that are whizzing by.
The fall and winter months see more deer laying on the side of the road than any other part of the year because drivers don't have as much time to react and avoid hitting them and they are blindlessly running to "safety" from all of the hunters, and when they get into the neighborhoods, it's a different issue because those drivers aren't used to looking for them. This leads to dead deer being in unfamiliar places and even getting makeovers like this one deer in Kalamazoo.
Kalamazoo is known for being a little wild, having animals wandering around the Kalamazoo Zoo, and so much more, but this is the first time I've seen anything like this. I'm no stranger to seeing deer, moose, and other animal heads mounted on the walls of restaurants, but what I seen on the Paterson St Bridge is next level wild.
In the picture above you can see that someone took it upon themselves to give this deceased deer a parting wardrobe. The deer can be seen laying on its back with all four of its legs hanging in the air and someone has come along and placed boots on the hind hooves and gloves on the front hooves.
The funniest part of this situation is that this bridge was just opened back up a few days ago after a half a yearlong construction project. This deer lost its life shortly after the bridge was reopened and someone decided to put socks on, he's not bare foot in the Timbs, he's strapped with the Hanes crew socks.
If this happened with the number of deer that find themselves not breathing on the side of the road, we would have an entire village of deer with makeovers. I hope that I never see anything like this again. although it is funny I don't believe it's sanitary and scary.
DOE! Michigan's 2023 All Deer Season Numbers to Date By County
With the 2023 Michigan firearm deer season underway, here's a county-by-county look at deer harvested in all seasons, broken down by bucks, does, and county as of November 18, 2023.
Gallery Credit: Scott Clow
11 Michigan Deer Camp Necessities You DO NOT Want to Forget
Deer camp is something Michigan looks forward to, almost as much as Christmas. But poor planning and packing can lead to some miserable experiences for you and your fellow campers. Here are 11 Michigan Deer Camp Necessities You DO NOT Want to Forget
Gallery Credit: Scott Clow
Michigan Deer Season: Car v Deer, Which Kill More in Your County?
Between hunters and car-deer collisions, which one is responsible for thinning the herd more in your Michigan county? Using the
Michigan Department of Natural Resources
deer license sales from all seasons and crash data from
MichiganTrafficCrashFacts.org
, let's take a county-by-county look as we count down to the one with the most deer-involved crashes and compare that to the amount killed by hunters.
Gallery Credit: Scott Clow