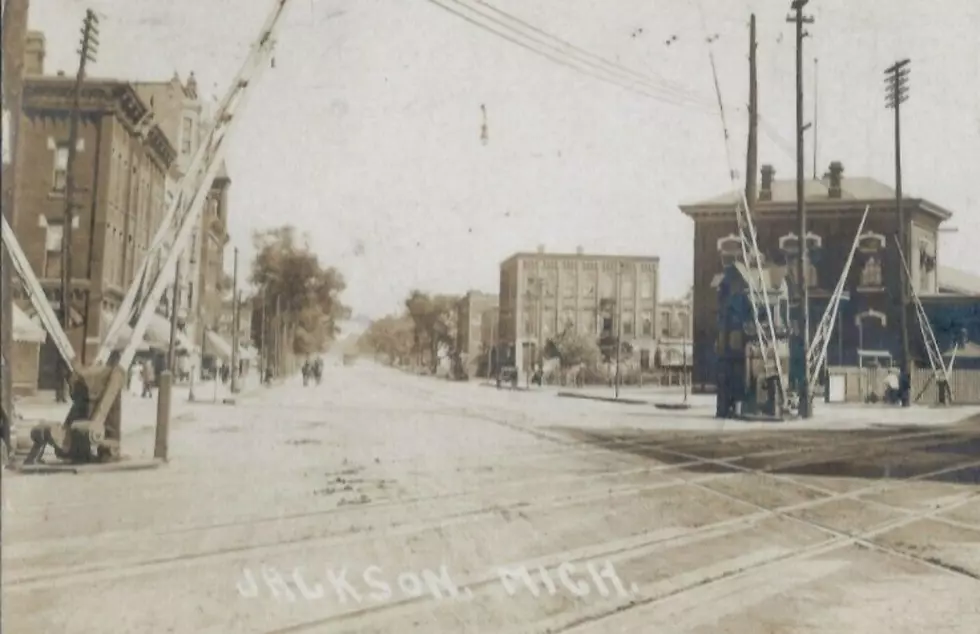 "Won't You Come Home Bill Bailey" Written in Jackson, Michigan: 1902
available @ worthpoint.com
Whatever title you wanna give it - "Won't You Come Home, Bill Bailey" or "Bill Bailey, Won't You Please Come Home" - the song was definitely written here in Michigan...Jackson, to be exact.
In the late 1800s/early 1900s, Jackson was nicknamed "Little Chicago".....it was as untamed as Chicago, thanks in part to all the rowdy railroad men and the vast number of saloons and cathouses in the area they frequented.
It was a true, rowdy railroad town. The Michigan Central Railroad set up repair shops in Jackson, and with 3,000+ railroad workers living in the area, the saloons and bars did very well. Approximately 75 bars, taverns, and saloons were lined up among the streets of Cooper, Cortland, Francis, Main, Mechanic, and Pearl. It was in one of those saloons where the tune "Won't You Come Home, Bill Bailey" was written. There are a few saloons that may have been the location, but the most common one mentioned is Conrad Diedrich's Saloon, located at 213 E. Main Street (now E. Michigan Avenue) somewhere near the former Otsego Hotel.
According to an excellent Mlive article, Diedrich's saloon catered to just men, which meant all manners and good behavior basically meant nothing. Hughie Cannon played the ragtime piano at the saloon and would frequently bang out new songs. When – and if – the saloon closed, he'd continue performing somehow out in the street. Many times his caterwauling at late hours landed him in jail.
Hughie was friends with Willard "Bill" Bailey, who often talked about his wife Sarah. A dance hall performer at night, Bill would regale Hughie with tales of his staying out late cavorting with dance hall girls and female customers. This led to a dejected young wife, waiting at home for her husband Bill 'til the wee hours of the morning. In a 1973 interview she said, "Bill was my sweetheart, but he was everybody else's, too. He lied to me all the time, but I was too young to understand much then. I was a country girl." Married in 1893, it was years later when Bill and Sarah moved out west; they eventually divorced in the 1940s. She remarried, her second husband died, and she came back to Jackson, living out her years at the old Cedar Knoll Rest Home. She died in 1978 at the age of 104.
As for the songwriter Hughie Cannon, a reporter found him living in a homeless shelter in Detroit in 1909. Hughie was a chronic alcoholic, boozing since he was 16 years old. At age 34 he died of cirrhosis in Toledo's Lucas County Hospital, June 1912.
"Won't You Come Home, Bill Bailey?" Written in Michigan
MORE INTERESTING MICHIGAN STUFF!
Jackson Eatery Memories
Michigan's Love of Vaudeville, 1900s-1920s
Hot Air Ballooning, Early 1900s
Plank Roads
Vintage Cereals of The Battle Creek Food Company