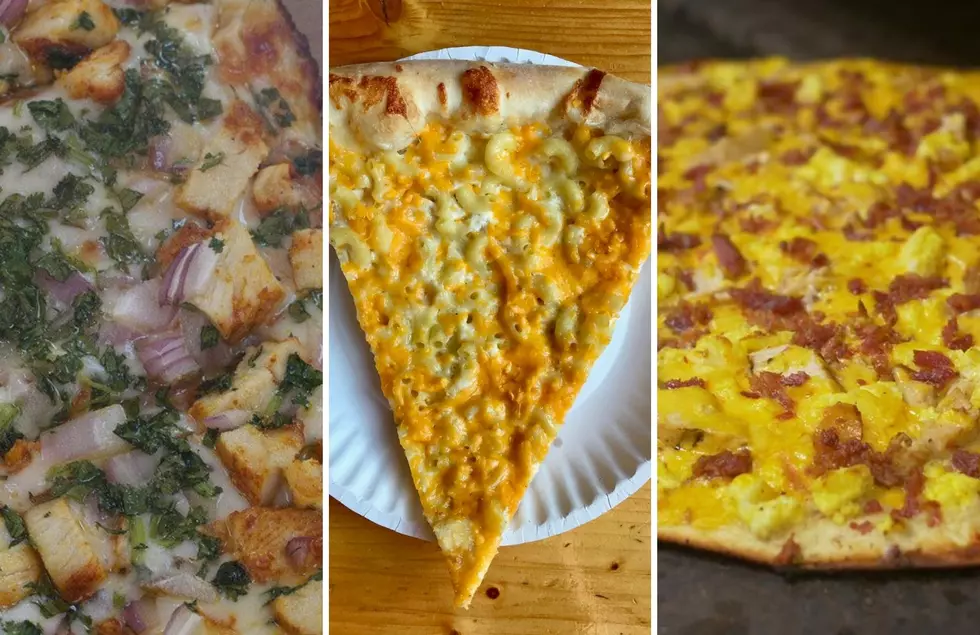 The Craziest Pizza You Can Order In Michigan According To Experts
Credit: Amar Pizza, Ian's Pizza Madison, Jockamo Upper Crust Pizza Irvington via Facebook
Sometimes it seems like talking about pizza toppings can be as controversial as talking about President Trump and President Biden.
One of the bigger debates when it comes to what goes on a pizza is pineapple.
Which I'll scream from the rooftops is freaking delicious and is a great topping.
Related: 16 Michigan Restaurants Guy Fieri Has Visited With The Food Network
Craziest Pizza You Can Order In Michigan According To Experts
Amar Pizza, which has locations in Hamtramck and Troy, serves up Michigan's Craziest Pizza, called "The Ghost Pizza," according to the experts at Cheapism.
Here's what they said about "The Ghost Pizza" at Amar:
This pie comes with chicken, red onions, cilantro, ghost sauce, and a disclaimer: "Extreme heat. Eat at own risk." If you're not inclined to set your mouth on fire, Amar's has some other interesting pies on the menu, including tandoori pizza and dry fish pizza.
I love the heat but the heat doesn't love me.
There is absolutely no way I'd even try a bite of "The Ghost Pizza." I can only imagine how bad it will burn coming in and going out.
Check Out Some Of These Other Crazy Pizzas You Can Order
Wisconsin - Mac n' Cheese Pizza
The Mac n' Cheese at Ian's Pizza comes with a cream base, noodles, and lots and lots of cheesy goodness.
Indiana - Hangover Pizza
The Denver is a pizza topped with chorizo sausage gravy, scrambled eggs, ham, red onion, green pepper, and cheddar; and the Farmhouse features the same gravy, eggs, and cheese but with chicken and bacon, too.
Ohio - Kumana Wana Laya
Mikey's Late Night Slice adds cinnamon to the ham and pineapple pizza.
Email me
 and tell me - who serves up your favorite pizza in Michigan?
LOOK: 35+ New West Michigan Bars and Restaurants to Check Out
West Michigan is a great place for foodies!
More than 35
new restaurants and bars
, including Mexican restaurants, seafood restaurants, pizza joints, cocktail lounges, and more have opened up in West Michigan in the past year.
How many have you been to?