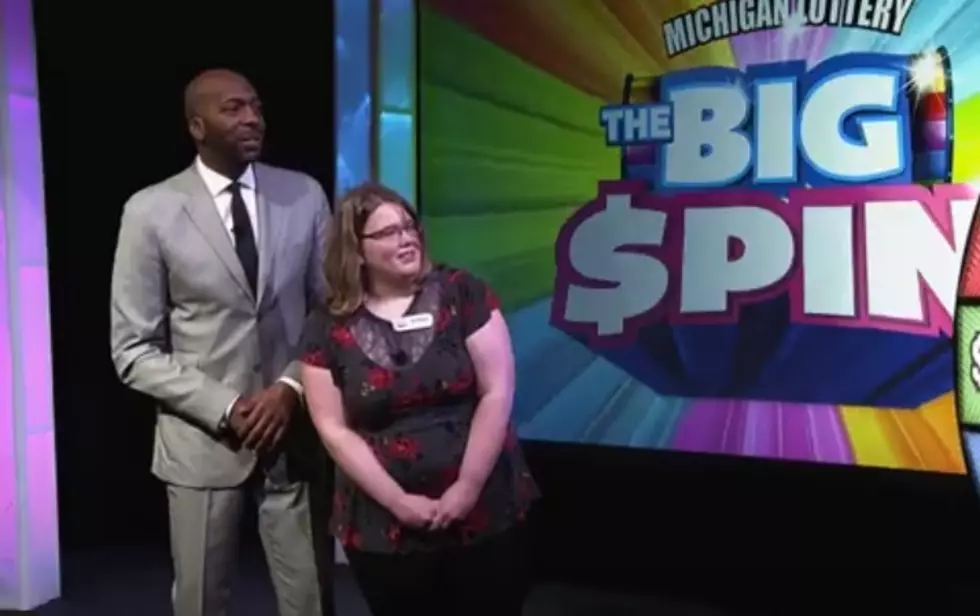 'The Big Spin' – Fenton Woman Wins $300K On Michigan Lottery Show
Michigan Lottery via YouTube
A Fenton, Michigan woman recenlty won fat cash on the Michigan Lottery show 'The Big Spin'.
Kaitlyn VanDamme did not land on the $2 million dollar spot on 'The Big Spin' prizewheel, but as you will see in the video below she was real close to becoming a millionaire. Kaitlyn has nothing to be upset over, the Fenton resident did score $300,000.
So how did Fenton resident Kaitlyn VanDamme get selected to participate on 'The Big Spin'? As reported earlier this month, by purchasing a losing Michigan Lottery Big Spin scratch-off ticket. VanDamme then entered her spin codes on the Michigan Lottery website for a second opportunity at winning.
We all know that people do indeed win the lottery playing various games, but it is always cool to see a local person win big. It gives hope to the rest of us that maybe one day we will win big too.
As a matter of fact, I recently won a total of $10 on a few various scratch off tickets. It's not even close to $300,000 - but it's a start and additional proof that you can win money playing the lottery (maybe just not as much money as you might like).
You can't win if you don't play - that being said, I will probably take my $10 winnings and invest in more lottery tickets.  I am quite certain that I would make an excellent rich person, and most likely you would too.
Congratulations again to Kaitlyn VanDamme on her big win.
This $1.1M Home in Grand Blanc Gives Off Castle Vibes
This $1.1M home in Grand Blanc not only resembles a castle but also comes with a movie theatre, dance floor, stripper pole, interior sound system, 4 car garage with 2 additional spaces on lifts for parking/storage, and more.
Ex-Detroit Piston Asking $3.5 Million For Bloomfield Hills Home
'Peace And Love' Michigan Lakefront Home Is One Of A Kind