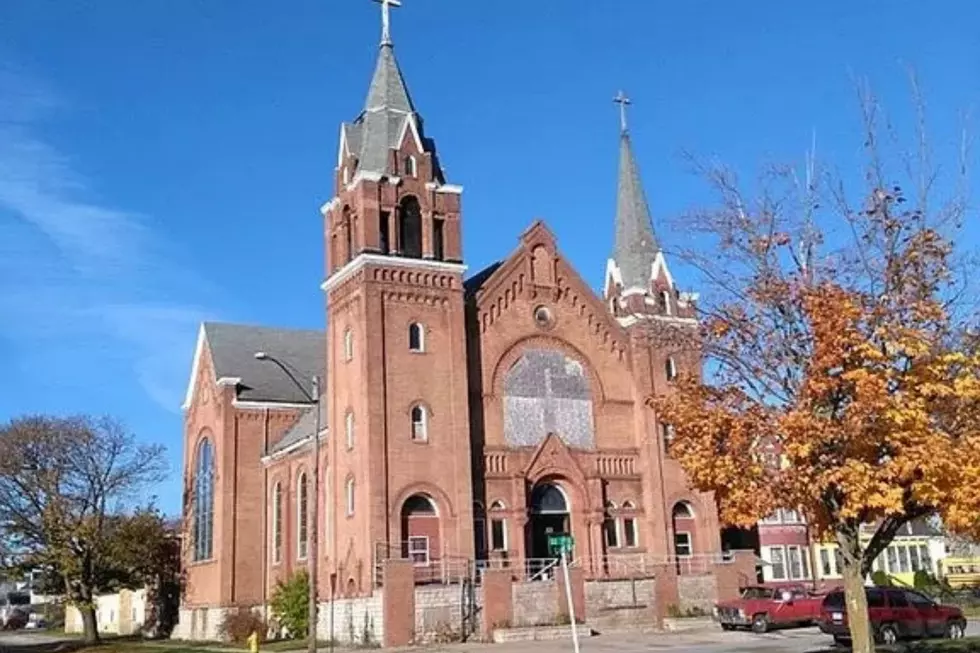 Remarkable St. Patrick's Church in Escanaba Is For Sale and Sinfully Cheap
Trulia
The spires of St. Patrick's Church rose over the city of Escanaba in Michigan's Upper Peninsula in 1902. Now, nearly 120 years later, the building is for sale, potentially as a home, for a moderate-sounding $125,000.
The building lost its congregation when the church was merged with nearby St. Joseph's with the newly combined parish now meeting at that church.
St. Patrick's is in a residential neighborhood two blocks south of the city's main drag, Ludington Street and a dozen blocks inland from Lake Michigan's Little Bay de Noc.
The listing, a for-sale-by-owner, is available on Trulia and describes the property as
Just waiting for someone to restore this gem...."Historic Site" level Faux Pendant Arch Ceiling still holding up beautifully for its age. Needs some minor paint and plaster, but try to find another like it still standing up to the challenge of time!!! Building being sold as is. Certainly some repairs needed-paint, plaster, plumbing, etc, but overall structurally solid. Currently zoned residential (single or multi-family)-many commercial uses allowed, and any can be applied for via variance. The possibilities for this property are endless.
The church was constructed in 1902 for the paltry sum of $27,974. According to a page on the history of the parish, the 70s saw a period of renovation, but also a transformation of the building. IN 1971, a $200,000 project saw
Interior and exterior restoration, repair of stained glass windows, new heating system, new roof and rebuilding of front steps.
However, just a few years later, in 1972 the church bells, made by the Meneely Foundry in upstate New York were removed and sold to a private party. In 1973 the spire needed repairing due to a lightning strike.
It was in 1997 that the church was closed, the parish suppressed, in the Catholic vernacular, and joined with St. Joseph's, that church just 5 blocks east a one block north.
The Escanaba Postcard Museum, which has several images of the church in its active years, states that after the merging of the parishes,
Private owners attempted to open the building as a wedding chapel in the 2000s, but were unable to do so. The building is still standing, but has fallen victim to years of disuse.
Take a look inside the building:
1902 Former Escanaba Church is For Sale Sinfully Cheap
SEE MORE: Home For Sale: Barn Turned Into Amazing Home In Jackson, Michigan
Check out these photos of huge barn converted into a 3 bedroom, 3 bathroom house.