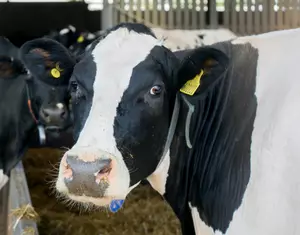 OMG – It's Happening AGAIN – in Mid-Michigan -This Week!
Getty Images
Chick-fil-A is opening in Okemos this week. The latest word from WILX-TV is that the new location will open at 6AM this Thursday morning. (They're letting people get in line at 6AM Wednesday morning.) This location is in front of the Okemos Meijer on Grand River. When the location on Saginaw opened last October there was a line of cars to get in the parking lot every day for...well, it seemed like months, but it was probably for several days. One of the perks they'll offer is a card good for free meals at Chick-fil-A, for a year (as long as you live within 30 miles of the store), to the first 100 adults inside the store..
Banana Don and Stephanie McCoy amuse and thrill you every weekday morning from 5:30 – 10AM on the radio at 100.7 WITL.
Banana Don can be reached via email at don.jefferson@townsquaremedia.com and on Twitter at @WITLBananaDon and @WITLFM. Also, Facebook friend Banana Don and Stephanie at Facebook.com/BananaStephanie and Facebook.com/WITLFM.
Plus – check out the new WITL app. It's much better than any other app – ever.