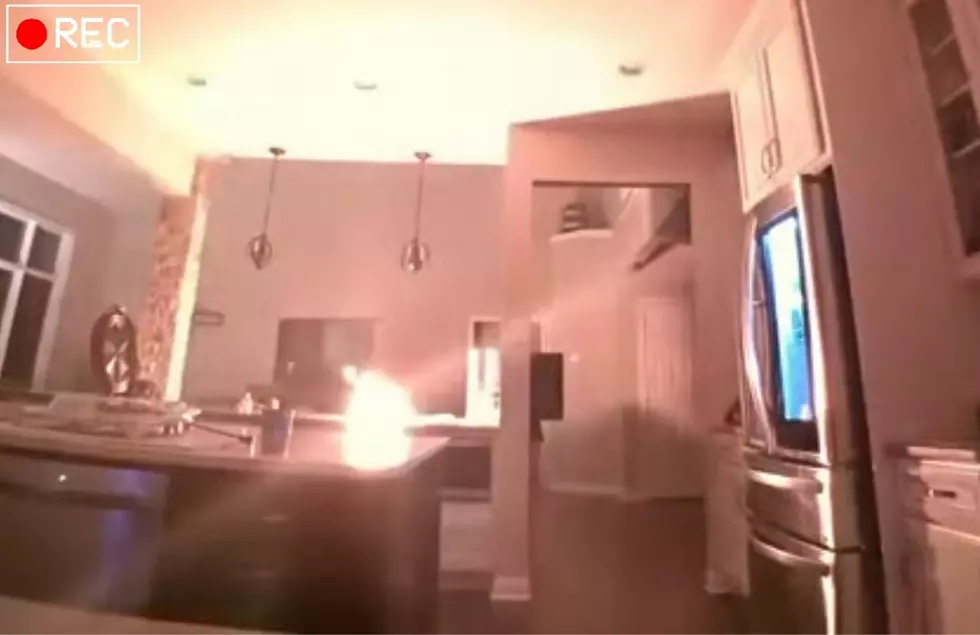 Ohio Family Lucky To Be Alive After iPhone Bursts Into Flames
Credit: Canva
One of my biggest fears is to have my house catch on fire.
Besides dealing with the hurt of losing my personal belongings and all the things that have sentimental value to my family, I also worry my wife Lindsey and I wouldn't be home at that time and our dogs Benny and Paddy couldn't make it out. Or that they would run and hide when the smoke detector goes off.
Ohio Family Lucky To Be Alive After iPhone Bursts Into Flames
Around 1 a.m. on January 9th, the Leisgang family was asleep when their security camera captured something terrifying.
An iPhone 4 that was out on the counter charging burst into flames and illuminated the entire kitchen.
Pictures posted on Facebook by Brian and his wife Jennifer show the burned phone on the counter.
The phone was in a case that appears to have faired better than the iPhone.
Brian and Jennifer Leisgang made a post on social media later that morning in hopes that it could possibly prevent a fire in someone else's house.
Our kids were charging our old iPhone 4 with the apple charger last night and it exploded and caught on fire in our kitchen while we were sleeping. Luckily we had just cleaned off the counter yesterday as it usuay has lots of school books and papers in that area. There we're small pieces of the phone and black soot all over the counter this morning. I've posted the video below and hope sharing this can possibly help prevent a fire in someone else's house.

 
Watch: iPhone 4 Catches On Fire While The Family Is Asleep
These 10 Rejected Michigan License Plates Are Hilarious
There are over 21,000 personalized plates that have been banned by the Michigan Department of State for being dirty, graphic, or hateful. These are some of them.
10 Old School Grand Rapids Menus Reveal How Cheap Eating Out Was Back In The Day
Check out these 10 old-school Grand Rapids menus that reveal how cheap eating out was back in the day.
What Did Michigan's License Plates Look Like The Year You Were Born?
Michigan is home to so much motor vehicle history. Let's take a look back in time to see some of the cool and interesting Michigan license plates of the past.