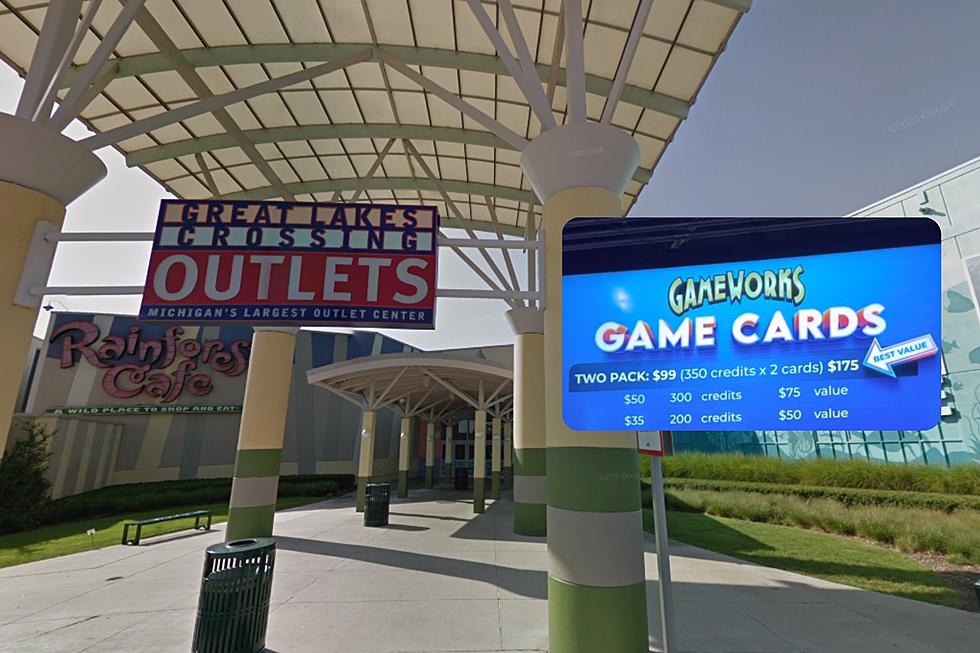 What Ever Happened to GameWorks at MI's Great Lakes Crossing Mall?
Google, TicketMaster1000 via YouTube
GameWorks was awesome back in the day.
With holiday shopping in full swing, the halls of Great Lakes Crossing mall are filled with those in Michigan who are searching for a great deal. However, that particular spot has changed quite a bit from when it first opened. Many of the original stores that drew people in are now gone...including GameWorks.
Back in 1998, Great Lakes Crossing was opened to the public in Auburn Hills. To this day it is still the largest outlet mall in Michigan. Shoppers have their choice of visiting 185 stores, going to the movies, checking out Sea Life Michigan Aquarium, and more. However, not all of the original stores are still there and GameWorks is one of those.
Sea Life Michigan Aquarium currently operates in the space that used to be GameWorks. For those that don't know, GameWorks was a great arcade that served food and drinks to customers. Unfortunately, it was closed on March 29th, 2010.
Anyone that lived in Michigan back in 1998 was very aware of Great Lakes Crossing. It quickly became a destination for Michiganders across the state. It offered many things we hadn't seen before and most people will always remember entering the mall between Rain Forest Cafe and GameWorks.
I thought GameWorks was great and my friends and I traveled there many times to play the games for hours on end. The four-story shooting game will remain a classic in my mind for years to come. It was so much fun to play against your friends and ascend the levels of the game. I just wish I could remember the name of that game.
GameWorks was originally a joint venture between Sega, DreamWorks SKG, and Universal Studios. In the years after its creation, the venture when through a number of problems including a couple of bankruptcies in 2004 and 2010. It was the 2010 bankruptcy that forced the closing of the Great Lakes Crossing GameWorks location. Sega Entertainment USA also closed six others across the country that same day.
SEE ALSO: This Auburn Hills Arcade is the Only One of Its Kind in Michigan
I wish that it was still around. Even though I remember it being a bit run down during my last visit, it was still a fun place to go. If you want to relive some of that childhood nostalgia, there is still one GameWorks that is still open and it is located in Downtown Seattle. This location is the only one to reopen after the pandemic.
On the bright side though, Great Lakes Crossing is now home to Round 1 Bowling and Amusement Center, which is a very nice arcade to check out.
To learn more about the history of GameWorks, click here.
Source: Wikipedia
7 Family-Friendly Arcades in West Michigan
Looking for something to do with the family? Get out of the house and check out these 7 arcades in the West Michigan area.
Gallery Credit: Google Maps
The Arcade at Grand Blanc Lanes
Grand Blanc Lanes has renovated its annex to include and brand-new arcade, a cornhole facility, and 14 bowling lanes. Check out the photos here.
Gallery Credit: TSM Monroe