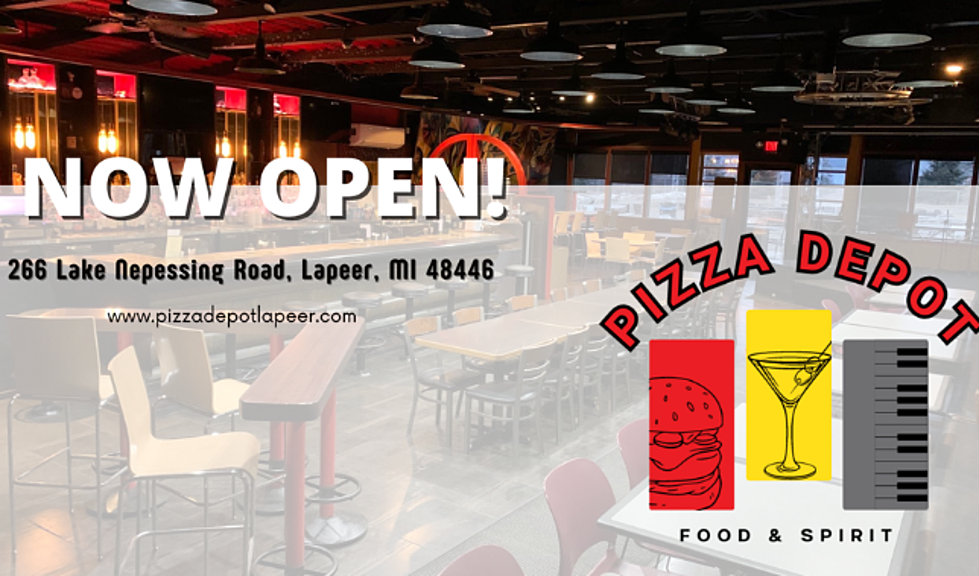 Pizza Depot Now Open In Lapeer – What You Need To Know
Pizza Depot Facebook
The Pizza Depot in Lapeer County is open for business.
The former home of Side Tracks Bar & Grill on Lake Neppesing Road in Lapeer is serving pizza, wings, ice-cold beer, cocktails, and more.
Hours at the new Pizza Depot are as follows,
Monday: Closed
Tuesday: 3:00 PM to 10:00 PM
Wednesday: 3:00 PM to 10:00 PM
Thursday: 3:00 PM to 10:00 PM
Friday: 3:00 PM to 11:00 PM
Saturday: 3:00 PM to 11:00 PM
Sunday: 3:00 PM to 9:00 PM
Customers can enjoy carryout, dine-in, and outdoor dinng is an option too at Pizza Depot. Are you planning a special party? The Pizza Depot offers room rentals for baby showers, birthday parties, and any other special occasion you want to celebrate.
The Pizza Depot serves a lot more than delicious pizza. Guests can enjoy appetizers like cheese sticks and fire cracker shrimp. Salds are also an option and so are the follwing dishes,
Stromboli
Icelandic Cod
Nashville Chicken
Fish Tacos
Nachos
Burgers
Sandwiches
Specialty Pizzas
Desserts
You can check out the complete Pizza Depot menu below.
Congrats to the Pizza Depot. Be sure to follow the Pizza Depot on Facebook for upcoming specials and events.
Check Out These 17 Michigan Pizza Reviews From Barstool's Dave Portnoy
Dave Portnoy of Barstool Sports has visited these Michigan restaurants for his One Bite with Davey Pageviews pizza reviews. "One bite, everybody knows the rules."
Happy's Pizza And Savvy Sliders Team Up - New Flint Location
Slice Of Flint Pizza - Flint, Michigan