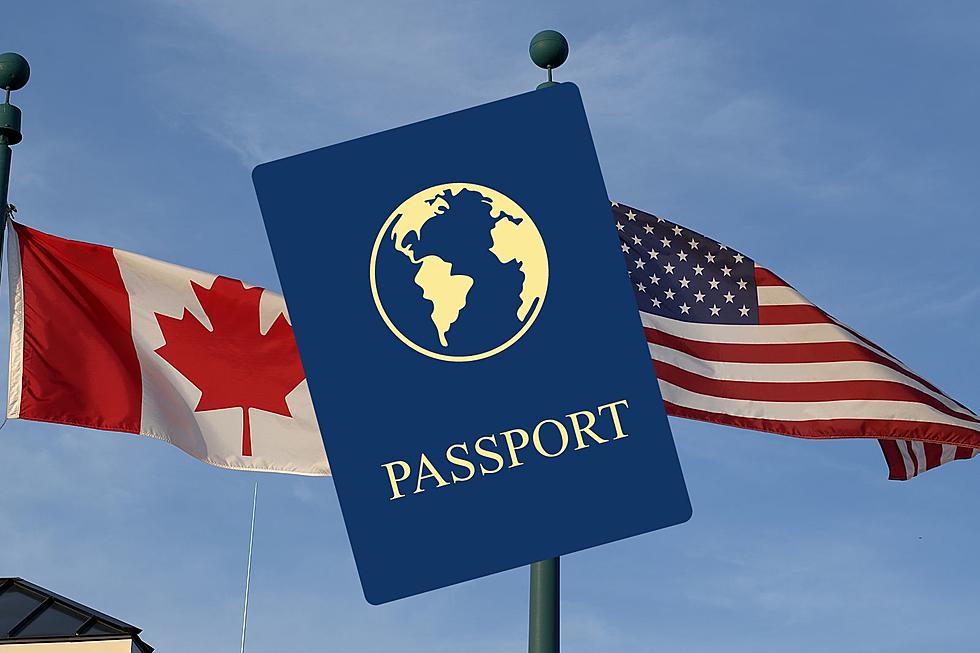 Are Michigan Residents Required to Carry a Passport To Enter Canada?
Canva
I don't know about you but crossing the border gives me anxiety! Even though I know I haven't done anything wrong and I don't have any contraband on me I still feel like they're giving me the third degree.
Especially with the Covid-19 pandemic, a lot of rules have changed when it comes to requirements for crossing international borders; even when visiting our neighbors to the north and west-- Canada!
An anonymous member of the Facebook group Grand Rapids Informed recently asked,
Does anyone have experience crossing the US/Canada border without passports? We have birth certificates and SS card as well as advanced drivers license. Would it be a hassle?
A fair question considering the rules have changed so many times. So where did we land on the whole passport requirement deal?
Western Hemisphere Travel Initiative
Enacted in 2009, the Western Hemisphere Travel Initiative (WHTI) is an agreement that establishes document requirements for travel by land or sea into the United States from Canada, Mexico, the Caribbean and Bermuda. Writes travel magazine Afar, 
Under this initiative, a passport is considered the standard document for international travel. It replaced previous forms of identification, such as a standard driver's license or birth certificate, which were previously accepted for crossing the U.S.–Canada border.
The goal of the WHTI is to strengthen border security while at the same time making border crossing process more efficient for travelers within the western hemisphere.
Entering Canada
The Canadian Border Services Agency (CBSA) requires that,
All international travellers must carry acceptable identification and a valid visa (if necessary) when entering Canada. A passport is recommended because it is the only reliable and universally-accepted travel and identification document for the purpose of international travel...If you do not have the proper documents, you may be delayed or refused entry into Canada.
Although a passport is preferred, the WHTI allows travel between Canada and Mexico by land and sea only with either an enhanced license or passport card. Trusted Traveler Programs such as NEXUS or FAST will also be accepted.
I can't find any information regarding minors entering Canada from the U.S., but many Michiganders recommend bringing a birth certificate and notarized custody papers, if needed.
My family is going in a few weeks, since I was also nervous I called and spoke to the Canadian border authority and they did confirm that an enhanced license is all you'd need for an adult and any minors would need to bring a birth certificate. (I asked about my 3 year old.) - Liz Moore
Entering the United States
It can be a little tougher getting back into the U.S. on your return trip! If you're a U.S. citizen returning to Michigan from Canada by land or sea, adults will need to show the following valid documents:
U.S. passport
Passport card
Enhanced Drivers License
Trusted Traveler Program card like NEXUS, FAST, or SENTRI
U.S. Military identification card or U.S. Merchant Mariner document
Valid tribal card like Form I-872 American Indian Card or  Enhanced Tribal Card
U.S. citizens under the age of 16, or under the age of 19 but traveling with a school, religious, or other youth group, need only show a birth certificate or other proof of citizenship. According to U.S. Customs and Border Patrol (USCBP) the birth certificate can be original, photocopy, or certified copy.
So yes, most travelers need more than just a birth certificate. The only exception is for closed-loop cruise ships that leave and return to the same U.S. port.
15 Offenses That Can Keep Michiganders from Entering Canada
There are a lot more charges than you think that could keep you from getting across the Michigan border in Canada.
5 Celebrities You're Likely To See In West Michigan This Summer
These 5 celebs just can't get enough of
Pure Michigan
. Here's who you're likely to see strolling the shores of Lake Michigan this summer: