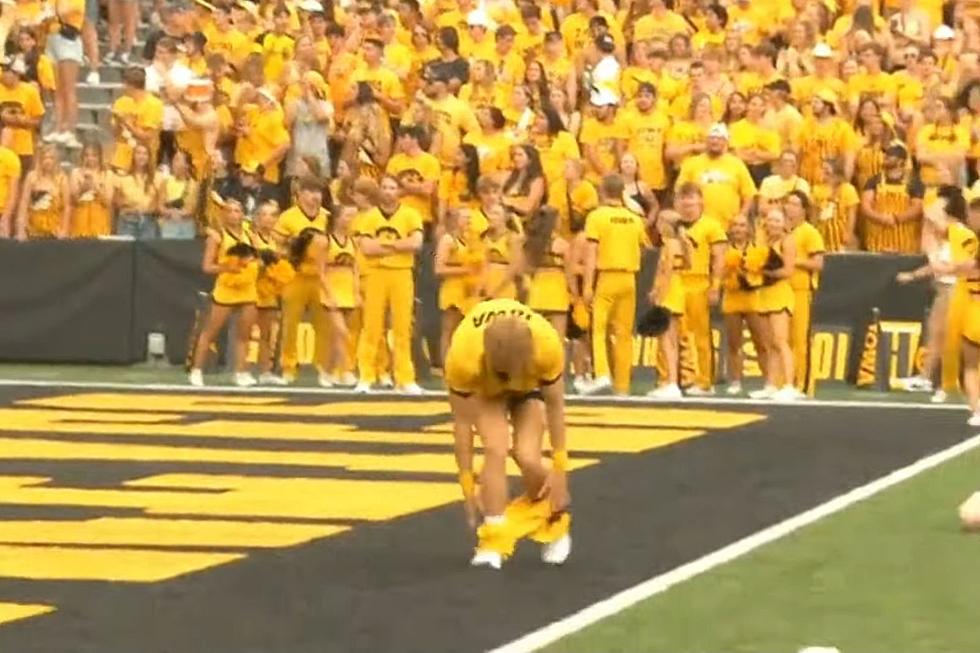 Cheerleader Loses Pants During Back Flip at WMU Game
Real News on YouTube
Iowa beat the pants off of Western Michigan Saturday, but it was an Iowa cheerleader who got caught with his pants down.
It was an embarrassing showing for the Western Michigan Broncos last weekend as they lost to Iowa 41-10.  And yes, Iowa has gotten lots of attention after this game.  However, nobody is talking about football.  They're talking about a moment that an Iowa cheerleader had that was both hilarious and mad impressive.
An Iowa cheerleader ran into the end zone, jumped into the air and as his body was vertical with his feet in the air, his pants were somehow around his ankles.  It can't be easy to run, jump into the air, twisting your body into a backwards flip and landing right side up on your feet.  This guy was able to do that as his pants were falling off.  He then stuck an impressive landing and had his pants pulled back up in record time.
All of this went down in front of 40,000 people.  The video of pantless, flipping cheerleader has gone mad viral.  There is no way to tell how many people have viewed this moment around the world as there are multiple copies on every social media site.  Our best guess is millions of views.  We are disappointed to see our Western Michigan Broncos have such a tough game.  But, pants off...I mean, hats off to that cheerleader who handled the moment with grace.
The 10 Commandments To Being A WMU Bronco
These are 10 things that are a MUST do on the Campus and surrounding areas of Western Michigan University
WMU Grad & Michigan Stunt Woman Sara Holden's Detroit Car Flip
Sara is not only a courageous stunt woman but a wife, mother of two, and an actress as well, as she has appeared in shows like CSI, Castle, Strain 100, Chicago PD, and Halloween. She's also a graduate of Western Michigan University