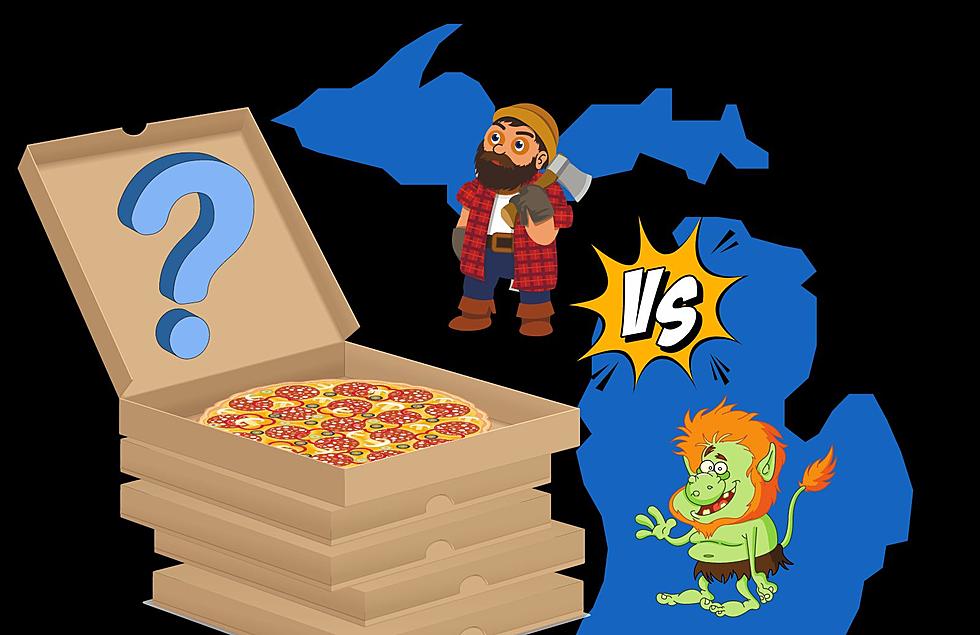 Who's Got The Best Pizza In Michigan, Yoopers or Trolls?
Canva
When I think of great Pizza in Michigan, it's hard to beat an eight-corner Detroit-style pizza from Jet's.
Give me some pepperoni and yellow peppers and I'm in heaven.
Someone in Grand Rapids Informed recently posted about looking for pizza similar to the kind they enjoyed when living in the Upper Peninsula.
My first thought was "What goes on an Upper Peninsula Pizza?"
Do they put typical pasty ingredients (ground beef, carrots, rutabaga, and diced potatoes) on it and then cover it with an unhealthy amount of gravy?
The person mentioned missing Main Street Pizza in the Upper Peninsula.
Former residents of the UP in Grand Rapids: You all miss Main Street Pizza. I do as well. Where in Grand Rapids have you found the most similar pizza? Gino's is close-ish from what I've found.
They're Not The Only One Who Missed Main Street Pizza
Several people shared their love for Main Street Pizza and others like it and how it's hard to find something similar here in the Lower Peninsula.
Former yooper been Fiending some Congress pizza or ambassadors for a while. - Kyle
Omg, I feel your pain as a former yooper myself. What I wouldn't give for a slice or two of some good old Main Street Pizza. My boyfriend says if you haven't give Vitos a try. I haven't had them but he seems to think they are similar! - Brooke
Gino's is amazing as I work with Mrs. Gino!!!!! Lia's Pizza is also good as well!! Arcanes Food Truck...mmm mmm good!! Faros isn't bad either. - Jen
There is a Main Street Pizza in Lakeview, MI. An hour from GR. - Andrew
Who's Got The Best Pizza In Michigan, Yoopers or Trolls?
After seeing all of this love for pizza places that are in the U.P. I started to wonder who has the best pizza in Michigan?
Is it the Yoopers from the U.P. or us Trolls in the L.P.
Now I haven't had Main Street Pizza, but I definitely want to try it, I however have had Vito's pizza and thought it was good.
So if Vito's pizza is similar to Main Street Pizza in the U.P., and I'm comparing that to Jet's Detroit-style pizza, Then better pizza has to be Jet's, and that means that the Lower Peninsula has the best pizza in all of Michigan.
Who do you think has the best pizza in all of Michigan? Share your thoughts
Check out the top pizza places in Michigan according to Dave Portnoy.
David Portnoy's Top 15 Michigan Pizzas
Have you ever had a slice of pizza that was so delicious, that it reaffirmed your faith in humanity? Knowing that as long as there are simple pleasures, like the feel of a large triangle, dripping with gooey cheese, or holding a dense square of Detroit style and hearing the crunch of the crisp crust. Faith in humanity...restored.
Here are David Portnoy's Top 15 Michigan Pizzas
New West Michigan Restaurants 2023
More than 20
new restaurants
, including authentic Mexican eateries, breakfast joints, pizza places, and Boba shops have opened so far in West Michigan in 2023.
How many have you been to?
25 Things Michigan Is Known And Famous For
Michigan is known as the Motor City and is home to Motown. But that just scratches the surface of what the Mitten state is known and famous for.