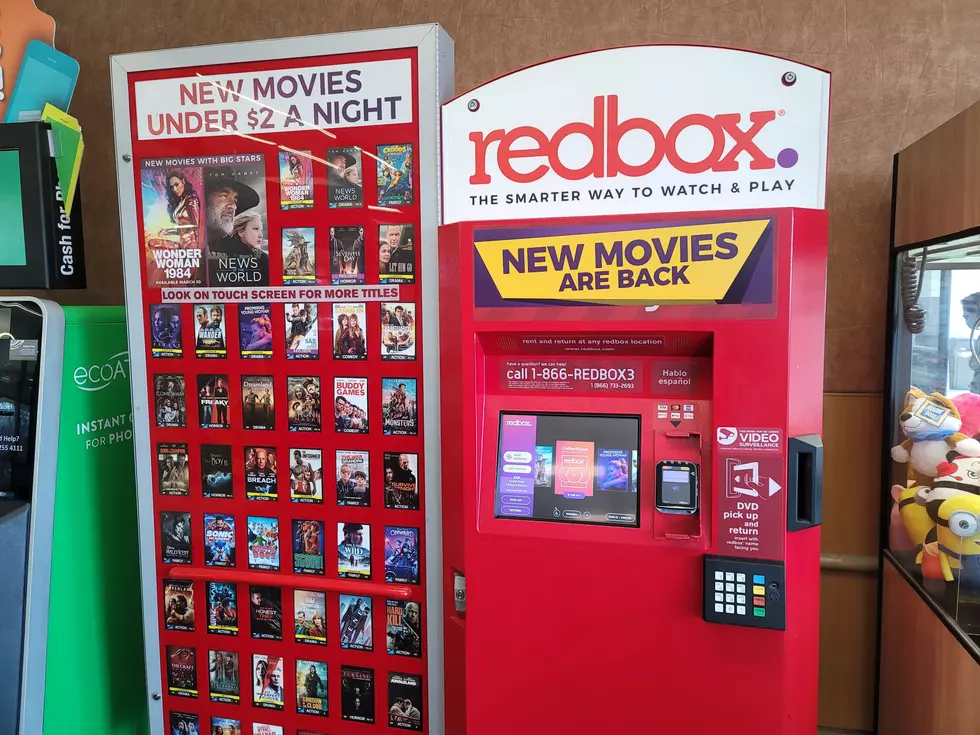 Is Redbox Still A Thing And Do You Still Use It?
McConnell Adams TSM Lansing
You know how you see a payphone every now and then and you're kind of taken aback? Like "whoa"! Who still uses those? I mean in a pinch or an emergency yeah, but doesn't EVERYONE have a cell phone now or some type of mobile device? You'd be hard pressed to find one, much less remember when was the last time you used one. Maybe to make a collect call? From jail lol.
That was the same feeling (no not the jail thing) I got when I saw this bad boy at the Holt Kroger this past weekend.
And a guy had JUST walked away from it. Proving two things to me immediately. One, Redbox is still a thing and two, people apparently still do use them.
But really, how much longer can this last?
Everyone and their uncle has a streaming service. Netflix, Disney+, Hulu, Paramount+, Peacock, HBOMax, and the list goes on and on. And it ain't cheap. But chances are you use or subscribe to at least one or two of these if not more.
Do you even have a DVD player in your house anymore? Because it's a dying medium. Just like CDs.
DVD sales have plummeted an astounding 86 percent since 2008 whereas streaming services have seen sales jump 1,231 percent since 2011. Blu-Ray sales are also declining fast as well. Ultra HD 4K Blu-Ray disc sales also seem to be in trouble. (National Interest)
They also stopped renting games a while back.
Redbox will no longer be renting video games, the company has announced. Video games will still be sold at Redbox kiosks until year's end, but by 2020 Redbox plans to completely abandon the gaming market. (Games Radar)
To compound issues, is it safe to use Redbox in the middle of a pandemic?
Redbox.com does indeed offer streaming which shows the company is not depending solely on in-person rentals. But depending on the release, it might be cheaper to get it at the kiosk.
There's also Redbox Free Live TV available via redbox.com and the Redbox app for Roku, iPhone, Apple TV, Android devices, VIZIO SmartCast TVs and LG Smart TVs.
They are adapting, but competition is already strong in the streaming field and it may be too late. Some analyst give them until 2025 before they are out of business.
That seems like a pretty optimistic number to me. With tech moving as fast as it does, I don't know if they'll make it that long.
50 Famous Brands That No Longer Exist
CHECK IT OUT: See the 100 most popular brands in America