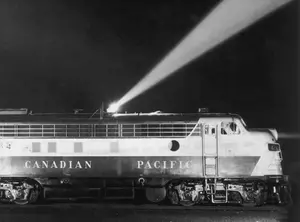 Holiday Train Coming to Michigan – But Will the Lights Be OUT?
Getty Images
This Friday night, according to MLive.com, Michigan will get another chance to see Canadian Pacific's "Holiday Train" roll through the southern part of the state. This is the 20th year CP has been running the Holiday Trains. One Holiday Train travels exclusively through Canada and another runs through southern Canada and into the U.S. At each stop, artists perform and the cost to attend the show is simply a donation to the local food bank.
HOWEVER - the train never stops in Michigan, because Canadian Pacific doesn't own any track in Michigan. So, one night a year, the U.S. Holiday Train leaves Windsor, Ontario and barrels through southern Michigan on it's way to Chicago and points west, eventually ending it's run in Saskatchewan. This year, CP says it might not even turn the lights on that decorate the train as it comes through Michigan. Their statement reads: 
"For rail security and safety reasons we may turn our lights off through this region." 
Banana Don and Stephanie McCoy amuse and thrill you every weekday morning from 5:30 – 10AM on the radio at 100.7 WITL.
Noted zythologist and all-around fun guy Banana Don can be reached via email at don.jefferson@townsquaremedia.com and on Twitter @WITLFM. Also, Facebook friend Banana Don and Stephanie at Facebook.com/BananaStephanie and Facebook.com/WITLFM.
Plus – check out the new WITL app. It's much better than any other app – ever.