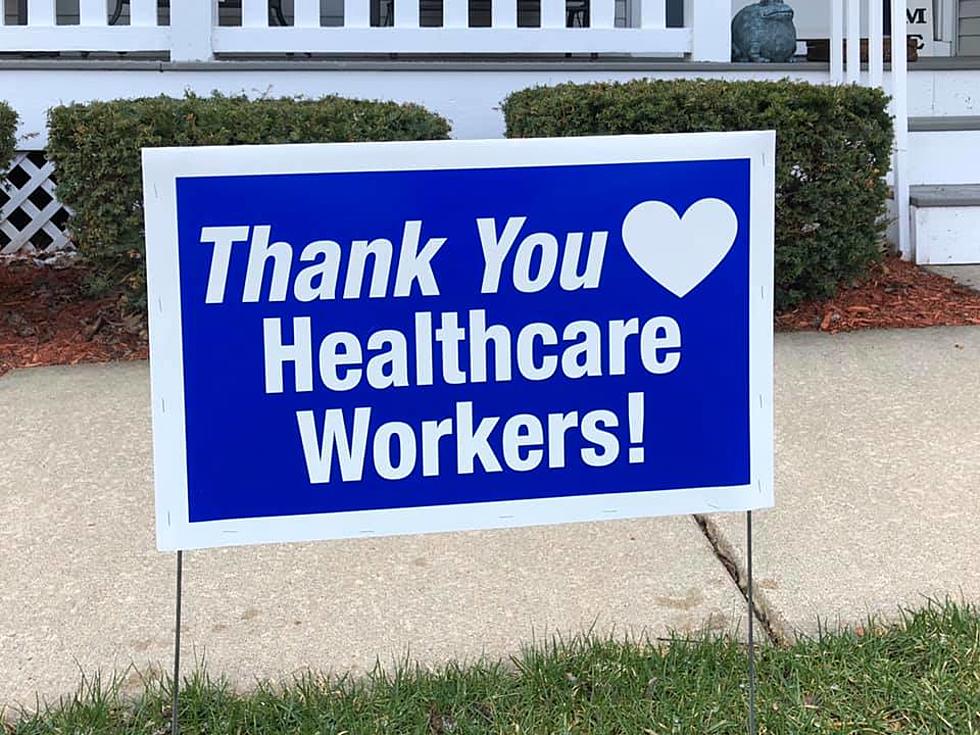 Here's How You Can Get one of the Popular Healthcare Worker Signs
Photo courtesy of Margie Steinkamp
Have you seen one of these blue "Thank You Healthcare Workers" signs yet in the Lansing area? Are you wondering where they came from and most importantly, where you can get one?
We have the answers for you! The signs were made by Margie and Bob Steinkamp, a couple in Holt, who decided that the signs would be a great way to show some support for all of the healthcare workers that are working on the frontlines to combat the Coronavirus. Steinkamp had hundreds of signs made and is selling them for a $3 donation (feel free to donate more if you'd like.) The signs are available for pick-up at 5801 Ambler Street in Holt.
Margie said that the main purpose of the signs was "simply to thank the community". She added that "we are so in awe of all of the sacrifices being made by our healthcare workers, we just wanted to do something." She said that she plans to give the proceeds from the signs to the local food bank. Margie and her husband, Bob, recently put up the signs near some of the local healthcare facilities to show them some support. (Pictured below.)
Also, you might happen to see some of the same type of signs in the Ann Arbor area because Margie says that she and a friend of hers that lives in Ann Arbor helped her with the design and then they split the batch of signs up between them to make sure both areas in the state were covered. There's a limited supply of signs, so be sure to get yours soon. If you have any questions, you can call Marge Steinkamp at 517-282-0582.
Thank You Healthcare Workers Photo Gallery
Enter your number to get our free mobile app