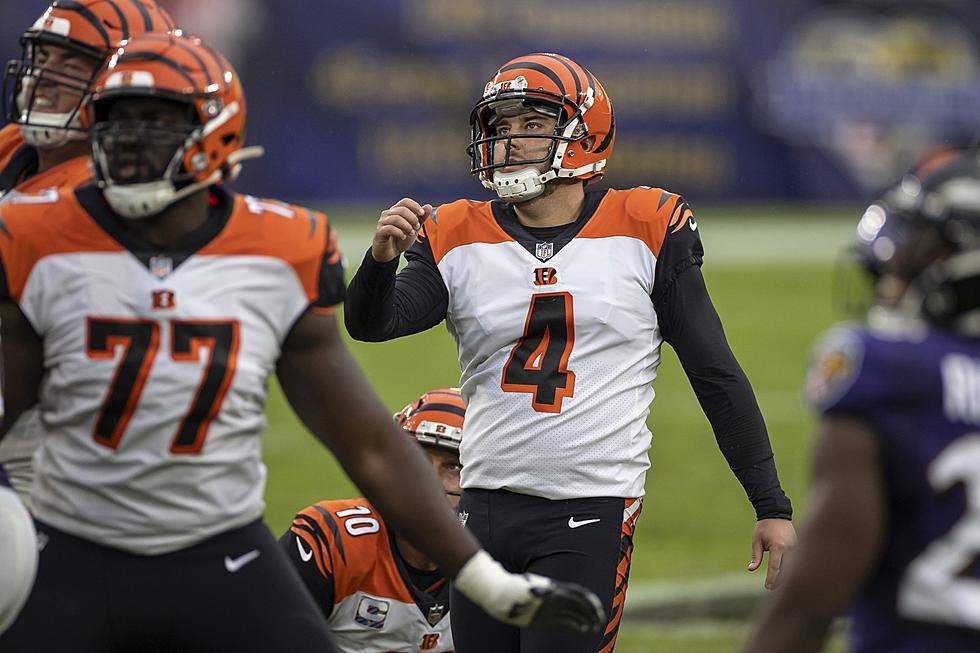 Detroit Lions Cuts: What, No Kicker?
Getty Images
The Detroit Lions got down to the NFL-mandated 53 players on Tuesday afternoon by releasing five players, waiving 13 others, and putting defensive lineman Jashon Cornell on the suspended list.
But what is glaring about Tuesday's cuts is that they outright released both kickers in camp.  Randy Bullock (pictured) and Zane Gonzalez.
This is so Detroit Lions!  What are they going to do, not plan on scoring this season?  You need a kicker to make extra points (if they plan on scoring touchdowns this season) and field goals in case they get close enough to try one during a game.
Last year's kicker, former Pro Bowler Matt Prater left for Arizona as a free agent after the 2020 season.  And Randy Bullock was expected to be the Lions kicker after he was signed after last season.  Bullock, as you can see above, had spent the last five seasons kicking for the Cincinnati Bengals.
And it wasn't as if Bullock (or Gonzalez) were bad in the preseason.  Bullock was 3-3 on field goals and hit his only extra point attempted.  Gonzalez was 1-1 in field goals and 3-3 in extra points.  Yet, the Lions cut both of them today.
What do they do now?  They'll certainly have tryouts for that position before the season starts on September 12th.  And they'll get a roster spot opened up when quarterback Tim Boyle is likely put on injured reserve because of the injury suffered in the team's final preseason game against Indianapolis.
But going into a season (as of now) with no kicker on the roster is SO Detroit Lions.  This is why THEY ARE THE LIONS!!!
The team has had great kickers in the last 40 years.  Eddie Murray, Jason Hanson, and Matt Prater.  And now, they have nothing.  Typical.  SOL.  Same Old Lions until further notice.
Top Things to Look For at Detroit Lions 2021 Training Camp
Here are the top eight questions that need to be answered before the start of the season in September.