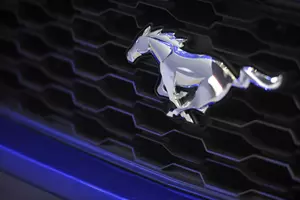 Detroit Auto Show – New Mustang So Powerful It's Illegal in Japan
Getty Images
It sounds like something you might tell your friends at the bar, but the new Ford Mustang Shelby GT500, introduced at the Detroit Auto Show yesterday, is so powerful - it's illegal to own one in Japan.
According to MLive.com, the new Shelby GT500 puts out 700 horsepower and will do the quarter-mile in UNDER 11 seconds. So, I get it. It's fast.
I've looked all over the internet to find out exactly why it would be illegal over there. I know to buy any American car is insanely expensive in Japan. And the taxes are based on the size of the engine and the age of the car. But, there are older American muscle cars in Japan, (including Mustangs from the 70s) So, what's the exact reason. If you know, let me know in the comments section.
Banana Don and Stephanie McCoy amuse and thrill you every weekday morning from 5:30 – 10AM on the radio at 100.7 WITL.
Noted zythologist and all-around fun guy Banana Don can be reached via email at don.jefferson@townsquaremedia.com and on Twitter @WITLFM. Also, Facebook friend Banana Don and Stephanie at Facebook.com/BananaStephanie and Facebook.com/WITLFM.
Plus – check out the new WITL app. It's much better than any other app – ever.