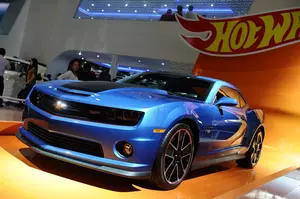 COPO Camaro – The Coolest Car Ever – Starts in Lansing
Getty Images
You may be aware of the fact that they build Camaros down at the Lansing Grand River GM plant. You may NOT know that some of the Camaro bodies they build down there get turned into a monster that, according to the Detroit Free Press, you can drag race right out the door (and win). It's known as a COPO Camaro.
The first COPO Camaro was built by the factory in 1969 when Don Yenko - a Chevy dealer and racer in the Pittsburgh area, figured out you could special order different engines and parts for the Camaros he was selling, that would turn them into race cars. Chevy figured it out and started offering beefed up factory versions. The next time they offered a COPO Camaro was 2011.
These days, you have to enter a drawing just to win the chance to buy one of these things. They take the shells, built and painted in Lansing and turn them into race cars at a small plant in Oxford, just north of Auburn Hills. And they're not cheap. The base price is $109,000. The 29 special "Hot Wheels" edition cars they offered this year cost almost $140,000. But they're so fast they have to be equipped with a parachute and turn sub-9 second quarter miles.
Banana Don and Stephanie McCoy amuse and thrill you every weekday morning from 5:30 – 10AM on the radio at 100.7 WITL.
Noted zythologist and all-around fun guy Banana Don can be reached via email at don.jefferson@townsquaremedia.com and on Twitter @WITLFM. Also, Facebook friend Banana Don and Stephanie at Facebook.com/BananaStephanie and Facebook.com/WITLFM.
Plus – check out the new WITL app. It's much better than any other app – ever.