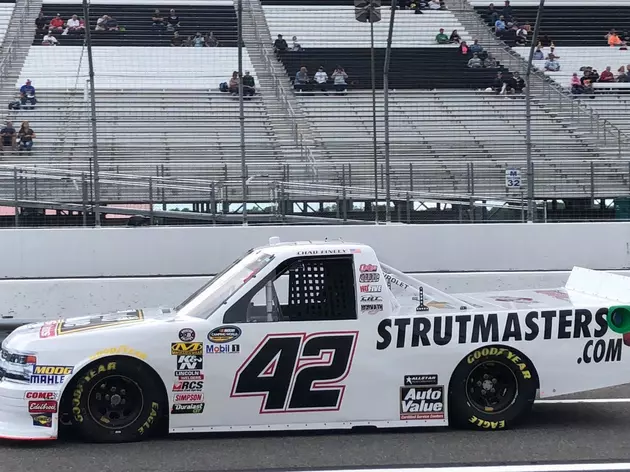 Clinton County's Chad Finley Climbs the NASCAR Ladder
Keep an eye out for this truck...Photo courtesy of Andy Rourke
Congratulations to Chad Finley. He's gone from racing go-karts to late models to ARCA (he won the ARCA race in Nashville last year) and now he's competing in the NASCAR Camping World Truck Series. And doing well. This past weekend, according to motorsport.com, Chad finished 6th at Gateway Motorsports Park in Illinois. Here's the story.
Chad is from Clinton County. He's lived in both DeWitt and St. Johns, but he went to high school in St. Johns, so I guess they get to officially claim him.
WITL "cub NASCAR reporter" Andy Rourke and his son Payton were at the race and provided the photo above. Andy reminds us that Chad is racing for a small team, on a limited budget, with a limited schedule. That's why Chad's dad, Jeff, uses the hashtag: #thelittleteamthatCAN.
According to his website, Chad will be racing his ARCA car at Pocono at the end of July and he'll be back in the truck at Bristol, Martinsville and Phoenix.
Good luck Chad - we'll be cheering you on. (And I'm still telling everybody you're from DeWitt)
Banana Don and Stephanie McCoy amuse and thrill you every weekday morning from 5:30 – 10AM on the radio at 100.7 WITL.
Noted zythologist and all-around fun guy Banana Don can be reached via email at don.jefferson@townsquaremedia.com and on Twitter at @WITLBananaDon and @WITLFM. Also, Facebook friend Banana Don and Stephanie at Facebook.com/BananaStephanie and Facebook.com/WITLFM.
Plus – check out the new WITL app. It's much better than any other app – ever.