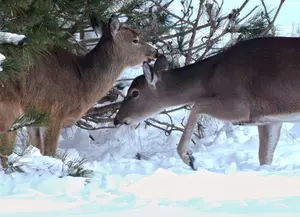 Ann Arbor cutting down trees – so they can shoot deer who destroy trees
Getty Images
There's too many deer in Ann Arbor.
And because there's too many deer, according to MLive.com, researchers and residents are concerned they'll eat a lot of the trees. Solution? Cut down a lot of trees, so you can see the deer and shoot them. So they don't destroy the trees. I know. I'm lost, too.
I get it. The real damage from the deer are the seedlings, so if they cut down a few bigger trees and shoot enough deer, the seedlings will be able to grow. Not to mention the reduction in car/deer accidents as a byproduct. But, some people have a problem with this plan.
Banana Don and Stephanie McCoy amuse and thrill you every weekday morning from 5:30 – 10AM on the radio at 100.7 WITL.
Noted zythologist and all-around fun guy Banana Don can be reached via email at don.jefferson@townsquaremedia.com and on Twitter at @WITLBananaDon and @WITLFM. Also, Facebook friend Banana Don and Stephanie at Facebook.com/BananaStephanie and Facebook.com/WITLFM.
Plus – check out the new WITL app. It's much better than any other app – ever.