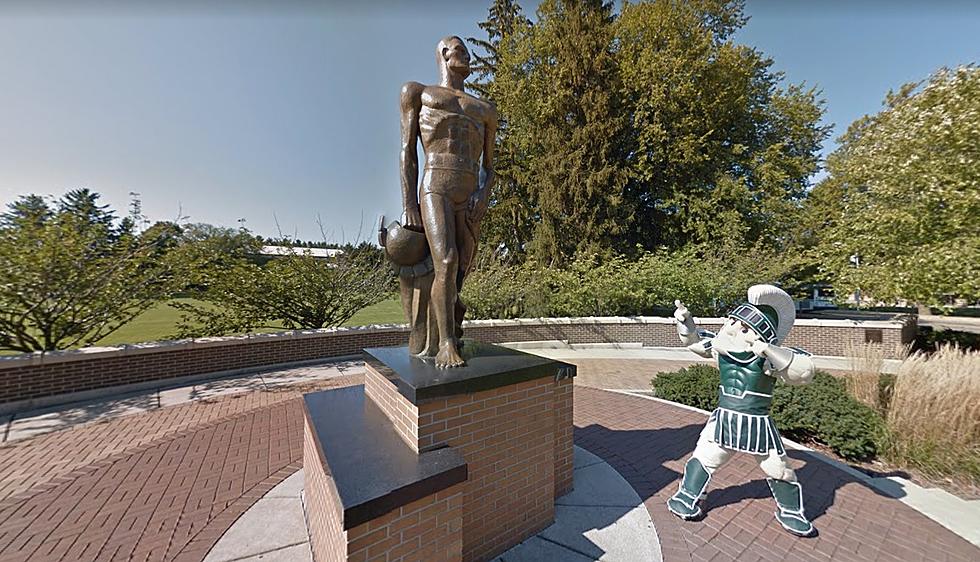 We Just Want To Know, Whose Turn Is It To Watch Sparty For Rivalry Week?
Google Maps
That photo is like Inception. Sparty is watching Sparty.
Fun fact if you go to Google Maps and search Spartan Statue, you'll see a description that says "Spartan Statue, Iconic Bronze Statue of MSU's mascot". If you hit street view and zoom in, you see the above photo of Sparty pointing at Sparty.
I wonder how they timed that to happen?
Either way, someone needs to be watching Sparty (the bronze version thank you) because it's RIVALRY WEEK.
What's that mean? We're glad you asked.
On guard for Sparty.
It all begins with guarding Sparty, a tradition MSU has had for years. Students will be guarding the statue all day and all night for the next week to prevent vandalism to the statue.

"At least once or twice every Michigan week they will try and come and it will be in the middle of the night when no one thinks they'll be here so we try to stop them," said Rachel Arking with the Sparty Watch Committee. (WILX)
It's a tradition and all part of the fun. Here's some video from 2017.
What does it look like when Wolverines actually get to Sparty?
It's not pretty and it's downright embarrassing for Rivalry Week.
At midnight, we sing.
Aside from guarding Sparty, there are plenty of other activities all this week.
Monday will be a movie night, Tuesday will be craft night, Wednesday MSU football coach Mel Tucker will be in attendance, and Thursday will be a dance night.

Every night at midnight students will sing the alma mater, MSU Shadows. (WILX)
Don't forget Wednesday night...
Go Green...
See you Saturday.
15 Most Important Games In The Michigan vs Michigan State Rivalry
Michigan and Michigan State have been battling it out on the gridiron since 1898. You can imagine that playing each other for that long will lead to a pretty heated rivalry. The Michigan / Michigan State rivalry is one of the best in all of sports. There have been many moments that helped to build that rivalry over the years. Check out 15 of the most important games over the decades of the Backyard Brawl.
SEE MORE: The Ten Best Running Backs in MSU Football History
UP NEXT: The Ten Greatest MSU Spartan Athletes of All Time