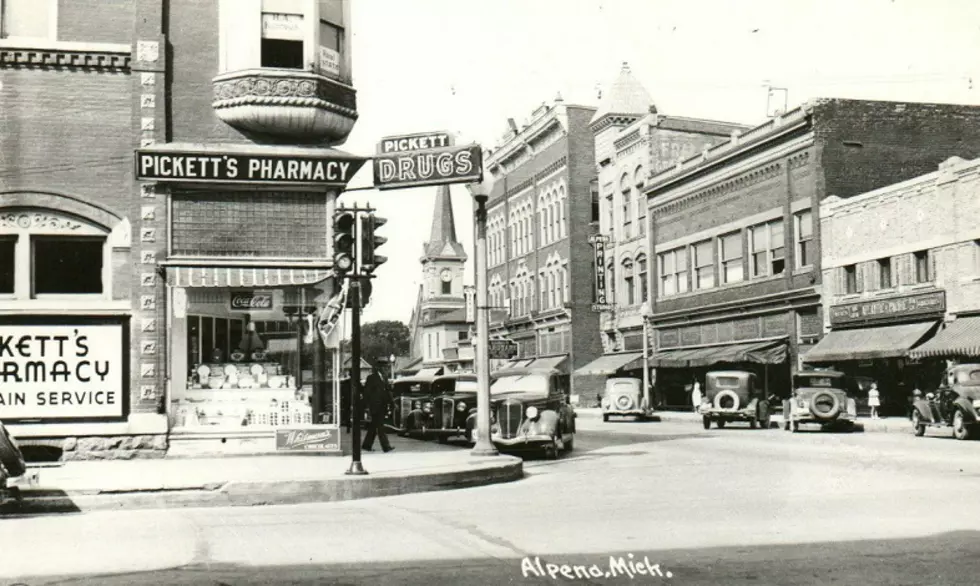 Vintage Photos of Alpena, Michigan: 1900-1940s
available @ worthpoint.com
Alpena's genesis occurred in 1830 when a lighthouse on Thunder Bay was built in 1832. A trading post popped up in 1835, and by the 1850s, settlers were arriving by boat into Thunder Bay, and the community began to grow. The village was laid out in 1853, and it became an incorporated city in 1871.
Logging was the major source of income, along with farming and fishing. Alpena's lumber trade seemed to last years longer than the average northern Michigan lumber towns; it held on until after World War II and when it finally died away, it left fishing and farming as capital sources.
Most of Alpena burned to the ground thanks to the Great Michigan Fire of 1871. In 1872, Alpena suffered even more losses after attempting to re-build, when another blaze – larger than the first – devastated a total of fifteen acres of homes, businesses, and land. Four people were killed, sixty-five buildings were lost, and a total damage of $180,000.....$4,070,000 by 2000 standards. One more fire hit Alpena in 1888, causing more havoc and disaster.
Around 1910, Alpena officials were looking for something to boost the economy. They now had the Alpena Motor Car Company, so why not go head-to-head with Detroit and beat them at their own game? The desire to become – and nicknamed - "The Automobile City" was soon dashed when they finally realized they could not compete with Detroit.
Today, Alpena attracts tourists and casual visitors every year – Thunder Bay, the Wildlife Sanctuary, the quarries, the downtown restaurants, the coffee from Boom Town Roasters, and more all bring 'em in every year.
The gallery below features many vintage photos of Alpena from 1900-1940s...
Vintage Photos of Alpena, 1900-1940s
MORE VINTAGE MICHIGAN LOCATIONS:
Vintage Photos of Charlevoix
Vintage Cheboygan
Vintage Isle Royale