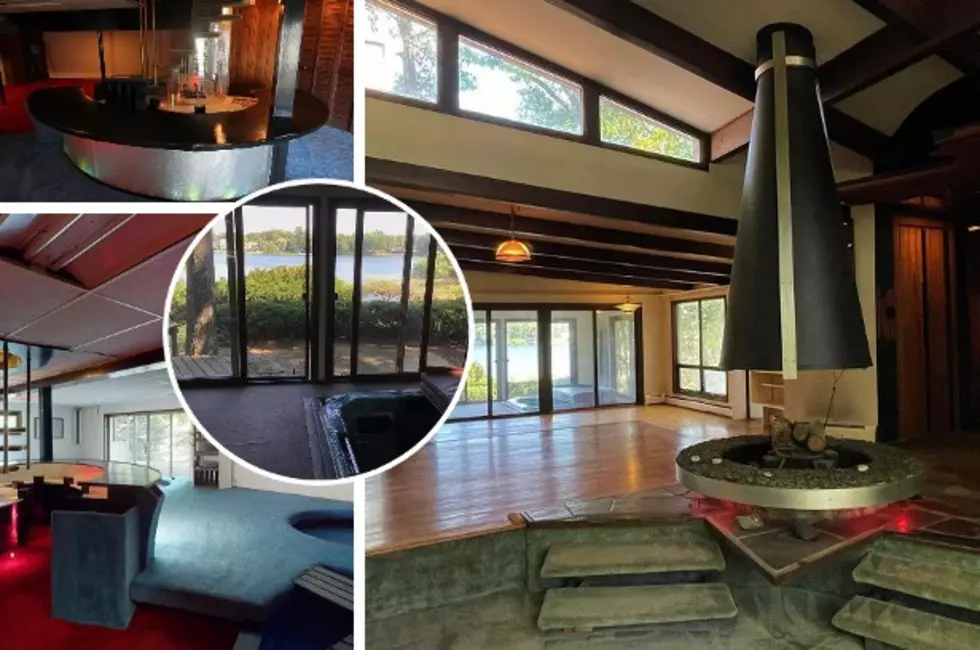 Under $500K For This Lakefront Waterford Party House
Redfin
If you love entertaining, this Waterford Township, Michigan lakefront home inspired by architect Frank Lloyd Wright is definitely for you. This unique contemporary home with an open living concept is perfect for entertaining.
New homeowners will enjoy views of Mohawk Lake from almost every room in the house. The party pad features four bedrooms, 2.5 baths, three fireplaces, and an elevated dining room. Wait until you see the basement - you will love the 1970s-style bar, dancefloor, and sunken seating.
The bathrooms are super cool too. The home is filled with carpet, but to me, that is part of the charm of a contemporary home. From the exterior to the interior - this is certainly a showstopper.
Giant trees on the property add a layer of privacy. The beautiful lawn, large deck, and the fact that the home is on the water make it easy and fun to entertain. I see a martini party happening on this property every Friday night.
Priced at $495,000 - this home is a steal compared to most lakefront homes for sale I have seen lately. As you will see in the photo gallery below, indoor and outdoor space is not a problem at this one-of-a-kind Michigan home.
Even if you are not in the market for a new home, it is always fun just to look - and it's free. Throw on your smoking jacket, sip on a Tom Collins and enjoy your tour of this Waterford Township oasis.
Under $500K For This Lakefront Waterford Party House
Incredible 1920's Historic Flint Mansion Can Be Yours for $650K
The "Miller Road Mansions" as the area is often called is home to some of the most infamous homes in Flint's history. Auto executives, politicians, and well know Flint families have lived in the area for years. One home on the market is truly a piece of elegant history. almost 11,000 square feet this home is one the largest homes in the county and is located in the historic Woodcroft Estates. Built in 1929, the detailing throughout is everything you would expect for a mansion located on the iconic Parkside Drive. The home boasts 11 bedrooms, 9 baths, and 6 fireplaces and is decorated in such a way to honor the craftsmanship. Know as a home for entertaining over the years, it makes you wonder who walked those halls, took a dip in the beautiful inground pool, and played a set or two on the private tennis courts. Take a look inside.
Unique A-Frame Airbnb Near Lake Michigan
Built in 2021, the Harbert Hideout is located on a quiet street surrounded by nature.
Whispering Oaks - Michigan's Finest Nudist Resort