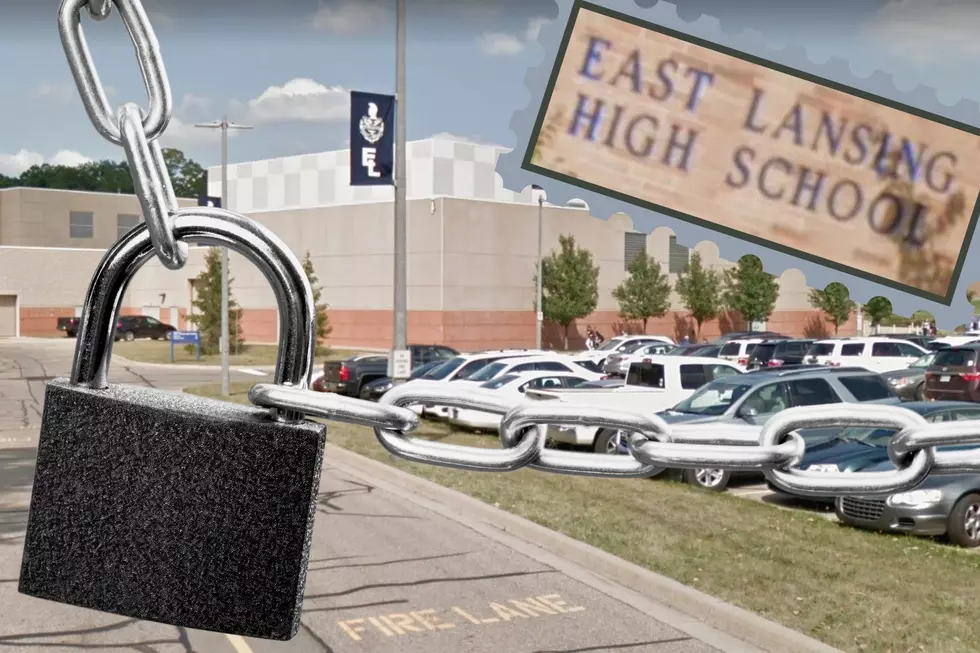 Threats, Lockdowns — What's Going On At East Lansing High School?
Photos via Google Maps and Canva
Safety concerns have disrupted normal activities at East Lansing High School three times in the past week. What's going on?
A Gun Falls Out of Student's Backpack on Campus; More Fights
After an East Lansing High School boys' varsity basketball game on January 19, a brawl involving several students broke out in the school's parking lot. A gun fell out of a student's backpack during the incident. That particular student has since been identified as someone who does not physically attend ELHS, according to WILX News 10, and has instead been taking classes online.
EastLansingInfo.news reported that the students involved were not immediately suspended and that some of the same students were involved in a large fight inside the school the following morning.
A Report of Another Weapon on Campus Prompts Lockdown
On January 24, East Lansing High School students and staff were placed under a shelter-in-place order for almost two hours as school officials investigated a report that a student had brought a weapon to school.
East Lansing Police were not immediately notified of the possible threat, and instead only dispatched officers to the school after learning about the lockdown from a concerned parent who called 911, according to EastLansingInfo.news.
The site quoted East Lansing Police Captain Chad Pride as saying:
We had no knowledge that this was a possible weapons incident. No dispatch information was sent to our officers.

After it was found out that the school was on lockdown, ELHS was contacted and ELHS staff confirmed they were in lockdown, but no police response was needed."
Shortly afterward, the school superintendent asked that officers be sent to ELHS to help determine whether there was an actual active threat. No weapon was found.
There Was Yet Another Lockdown Two Days Later
On January 26, school officials at East Lansing High were attempting to suspend a student over a non-violent offense when that student got angry and left.
According to EastLansingInfo.news, the student was overheard outside the building making threatening comments involving school administrators, then went back into the building and went into a bathroom. Police were called to escort the student out, and the campus was placed on lockdown yet again as a precaution for about twenty minutes.
That same day, dozens of students staged a walkout to protest the school's ongoing problems with threats and violence.
Classes at East Lansing High School Were Cancelled Due to Ongoing Safety Concerns
On January 27, classes at East Lansing High School were cancelled as school officials continue to grapple with the ongoing problems. No threats were reported.
So, What's Next?
According to WILX News 10, East Lansing's Hannah Community Center will host an open forum on Friday night (January 27) for students and parents to let their voices be heard.
The East Lansing Board of Education plans to hold a special meeting at the ELHS auditorium on Monday (January 30), which is expected to draw countless concerned citizens.
Google Maps Images That Show Just How Much East Lansing, Michigan Has Changed
From businesses closing and opening to old buildings coming down and new ones going up, there is so much that has changed about downtown East Lansing. Could you recognize it from these pictures? Join us for a walk down memory lane as we take a look at East Lansing, then and now.
Vintage Photos of East Lansing