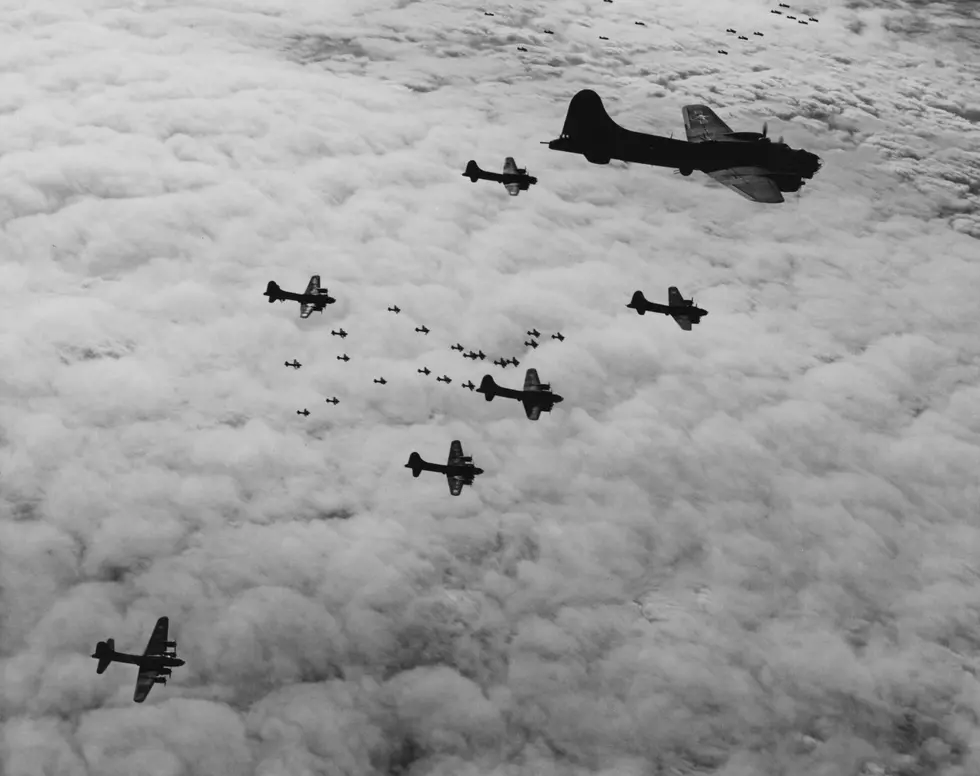 On D-Day – A Real Hero From Michigan – And A Thank You
Might be Mort in one of those B-17s...Getty Images
Imagine yourself - 24 years old, in command of a B-17 bomber and flying over the coast of France on D-Day to bomb Nazi Germans. According to the Detroit Free Press, Mort Harris, a Michigander who is now 99-years-old, did just that. And did it not just once, but twice that day. If you were in the air early on June 6, 1944 you might've gotten away with it just because you'd surprised the Germans. But to go back again, when the Luftwaffe knew what you were up to and what was at stake? Holy cow.
In fact, on the second mission that day, Mort's B-17 and his crew took some hits and even though they were damaged and a crew member had been shot, they were delayed while waiting to get authorized to land back in England. (And you and I get miffed when you have to wait in line at McDonald's)
Mort went on to fly 30 missions over Europe, including several of the first missions to bomb downtown Berlin. During that time, Mort got shot down twice. Once he went into the North Sea and lost crew members. The second time he was able to bring it down in a farm field. It's guys like Mort that turned the tide of the war, which still went on for almost a year after D-Day.
This 75th D-Day anniversary is important. The numbers of people involved in the invasion and World War II in general - and still living - is dwindling, so we don't have much time left to thank them personally.
So, thanks to everyone still alive, who saw to it that the Allies brought home the win. My dad, Kay Jefferson (they called him Jeff), was a 17-year-old that day. It was the summer before he would be a senior at East Lansing High School. (He played guard for the Trojans football team that year - I still have the playbook) When he turned 18 in February 1945, he went off to the Navy until November of 1946. He never saw combat, but ended up being part of the occupation force in Japan, right after we defeated them. And if the war had dragged on, who knows how many more kids would've been caught up - and died - in the fighting?
So, thanks, Mort. Thanks for putting that B-17 over Nazi-occupied France that day - twice. It had to be scary as hell. If my dad (who went on to retire as a major in the Air Force Reserves) was still around, he'd want to say "thank you", too.