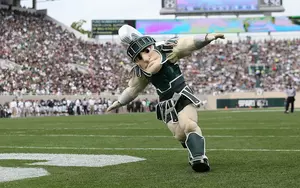 MSU Unveils Brand New Sparty Statue
Getty Images
There's one more "big man around campus" now...
Just yesterday, WILX reports that Michigan State University unveiled a brand new "Sparty" Statue on campus. The original "Sparty" stands proud near the banks of the Red Cedar; this new statue sits inside the MSU Union Building. And when I say sits, I mean that in the literal sense of the word... The statue is a "bronze version of the Sparty mascot" which sits on a bench inside the union!
Now, fans can go and sit next to Sparty and take their picture with him! And just in time for Homecoming week! Click HERE to see pictures of the brand new Sparty statue.