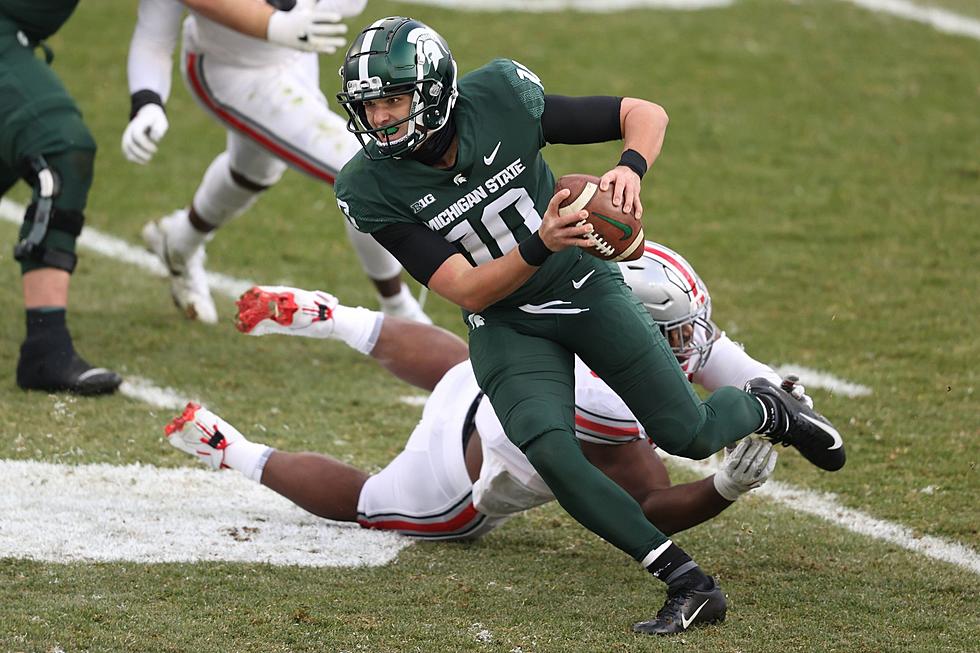 MSU Announces Green-on-Green Uniforms Against U-M
Getty Images
Michigan State football announced on Thursday that they will wear green-on-green uniforms with a green helmet when the 8th-ranked Spartans face the 6th ranked Michigan Wolverines on Saturday at noon in Spartan Stadium.
Here is the announcement via MSU Football's official Twitter handle:
The 7-0 Spartans host the 7-0 Wolverines on Saturday afternoon.  This is the first time since 1999 that both teams are undefeated heading into the annual battle for the Paul Bunyan Trophy.
The Spartans have won nine of the last 13 games between the two in-state rivals.  Including last year's surprise 27-24 victory (where Michigan was a three touchdown favorite) at Michigan Stadium.
MSU wore a similar color scheme when they played Ohio State last year in East Lansing (see above on current MSU QB Payton Thorne).  There will be no white stripe down the center of the helmets they'll wear on Saturday.
It'll be one of the many things to be talked about this Saturday morning when Tim Staudt and David "Mad Dog" DeMarco broadcast live from the Ralph Young Track for the White Law PLLC MSU Football Tailgate Show.  You can hear it on Lansing's Big Talker 1240 WJIM-AM and Classic Rock 94.9 WMMQ from 8:30am-10:30am this Saturday morning.
Lansing Area High School Football Top 10 (October 27, 2021)