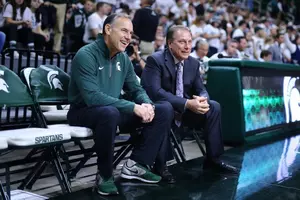 Michigan State – College Sports Powerhouse
Getty Images
According to MLive.com, Michigan State's basketball coach Tom Izzo and football coach Mark Dantonio have been named, by Athlon Sports, the No. 1 coaching duo in college sports. For the second time in three years.
Athlon Sports are the people who put out all the pre-season magazines that rank and analyze pro and college football, pro baseball, NASCAR and golf.
The number TWO duo is Oklahoma's Bob Stoops and Lon Kruger.
And at No. 4? Michigan's John Beilein and Jim Harbaugh.
Banana Don and Stephanie McCoy amuse and thrill you every weekday morning from 5:30 – 10AM on the radio at 100.7 WITL.
Banana Don can be reached via email at don.jefferson@townsquaremedia.com and on Twitter at @WITLBananaDon and @WITLFM. Also, Facebook friend Banana Don and Stephanie at Facebook.com/BananaStephanie and Facebook.com/WITLFM.