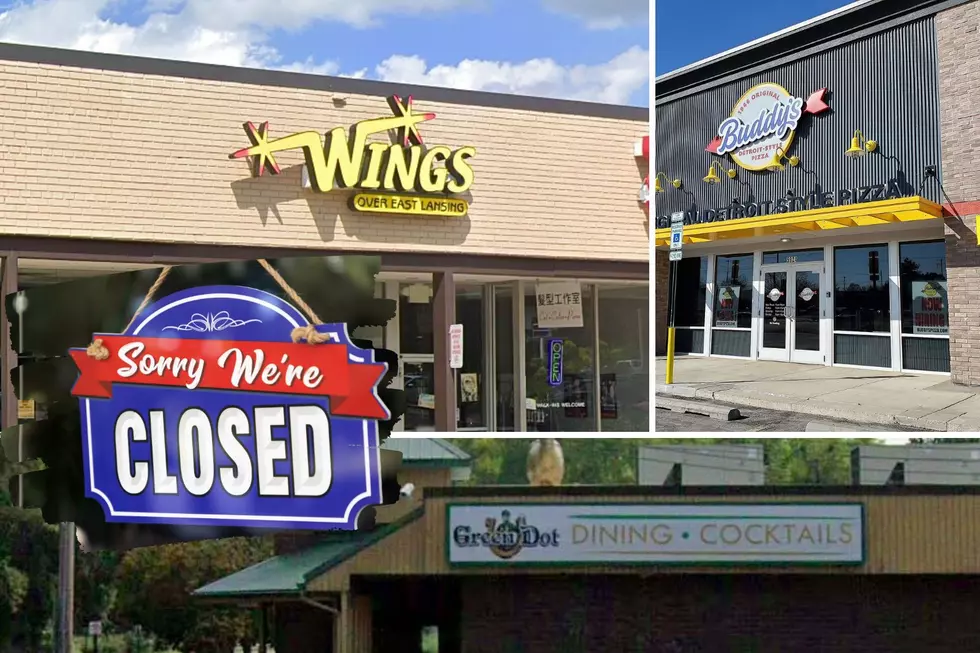 Restaurants That Lansing Lost in 2022
courtesy of Google Streetview, McConnell Adams TSM Lansing, and Canva
Lansing has an incredible foodie scene. No matter what you're in the mood for, there's something to satisfy your appetite.
But sadly, Lansing did permanently lose some restaurants in the last year. Whether it was because the owners wanted to move on, they had staffing shortages, or otherwise, we had to say goodbye to many restaurants.
Lansing Restaurants That Closed In 2022
Patrons and Lansing area residents alike were very sad to see these places close, especially because so many of them have been staples in the community for quite some time. Hopefully, we will see some other local restauranteurs step in and fill the gaps of what we've lost.
Here's a look on the bright side...a few of the restaurants that we lost this year have been able to reopen!
Here's a look back at the restaurants that we had to say goodbye to in 2022, and a few we got to say hello to once again!
Wings Over East Lansing
Wings Over East Lansing once served up wings and late-night eats in the plaza at the northwest corner of Hagadorn and Grand River in East Lansing. Wings Over closed abruptly in February 2022.
American Bistro
American Bistro was located in the Eastwood Towne Center and was known for its delicious breakfast and brunch selection. Sadly, they closed their doors with no warning in early February 2022.
Taco Bell in East Lansing
There were many current college students and alumni that were sad to see this Taco Bell in Downtown East Lansing close. It was always open for that perfect post-bar snack. Unfortunately, it closed in February 2022.
Green Dot Stables
Green Dot Stables opened up in the old Whiskey Barrel Saloon location, serving up a rotating menu of sliders. Unfortunately, they got hit hard by a severe flood in the area and it was hit pretty hard by the pandemic. Green Dot Stables closed in July 2022. However, if you'd like to make the trip, their Detroit location is still open.
The Cosmos/Punk Taco in East Lansing
Located in the same plaza as Wings Over East Lansing, The Cosmos/Punk Taco in East Lansing closed its doors as well. First, all traces of "Punk Taco" had been removed from this location in October 2021, but The Cosmos stuck around a little while longer, closing sometime in February 2022.
102 Pho & Banh Mi
The owners of 102 Pho & Banh Mi were very saddened to announce their closure in mid-October of this year.
Buddies Pizza
Buddies Pizza is a Michigan staple when it comes to Detroit-style pizza. Sadly, the location on Lansing's west side closed in mid-September this year. However, the location in Okemos is still open.
Mr. Corned Beef
Lansing residents loved Mr. Corned Beef for its sandwiches that were piled high with meat. Sadly, Mr. Corned Beef closed in early August this year. But thankfully, they reopened in early October!
Red Haven
Patrons of Red Haven had to say goodbye to it in June of this year. However, while the day-to-day restaurant portion closed, the owners did reopen it with different intentions. Red Haven now focuses on events and pop-up dining experiences.
A Look Back at the Lansing Restaurants That We Lost in 2021
Lansing is home to tons of great food, but like the sign of the times, we did lose a few restaurants in the year that was 2021. Take a look down memory lane with us as we explore some now closed restaurants in Lansing.