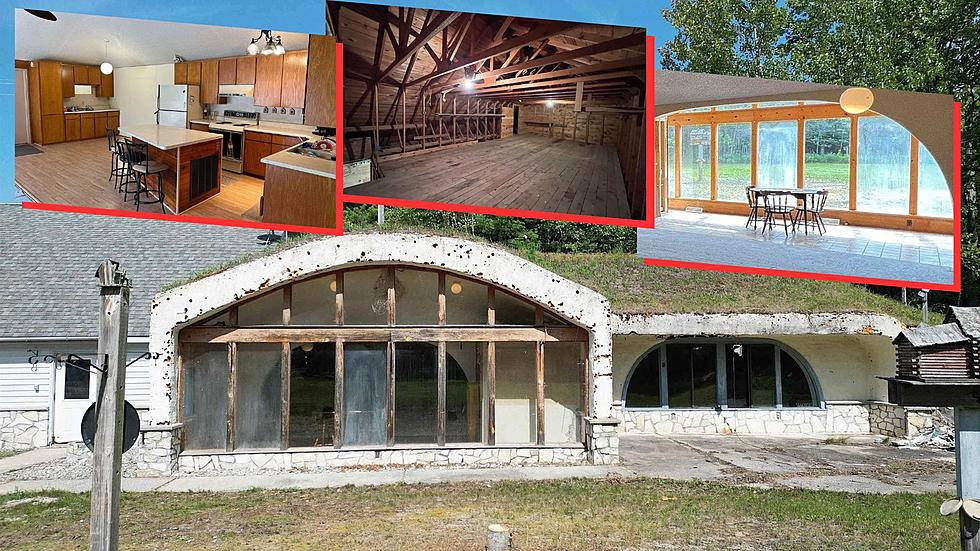 'Terra-Dome' Home in Manistique Could Become a 'Terra-DOOM' House
Zillow/Canva
The Lord of the Rings and fans of J.R.R. Tolkien might look at this home, and think it's another cool Hobbit Home to look into. And in a big picture situation, yeah, it's pretty unique, and you'll certainly never have to replace the roof.
However, just like a Tolkien novel, there are dark secrets that lay beneath the surface of this Hobbit Home that could potentially be your undoing.
This berm home in Manistique is just a few miles from downtown. It was built as a "terra dome" home, that partially covers most of the house with dirt and grass. So, instead of shingling your roof, you mow it.
It's a pretty good design in Michigan, because it will keep you warmer in the winter, and a little cooler in the summers. And the design of this home is actually pretty unique, because it IS buried under ground, but still has a LOT of natural light that makes its way inside the home.
However, when you look a little deeper, and closer at the bones of this home, it goes from "terra dome" to "Terra DOOM!"
Upon further investigation of some of the interior walls, the sheer weight of the dome has begun crumpling one of the interior walls. Support 2x4s have begun bending and breaking.
That's not to say it can't be fixed, but how big of a risk are you willing to take?
Also, the bathroom has NO windows, a tub that's halfway buried in the ground, a laundry room that looks more like a survival bunker, and the main interior could use some updating... but the garage is pretty big and useful.
It also happens to be the only part of the home that isn't under terra firma.
So take a look, and decided if it's a cool fixer-upper for you at $125,000, or is this terra-dome just plain terrible?
Manistique 'Terra Dome' Home Could Spell out Terra-Doom If You Lived In It