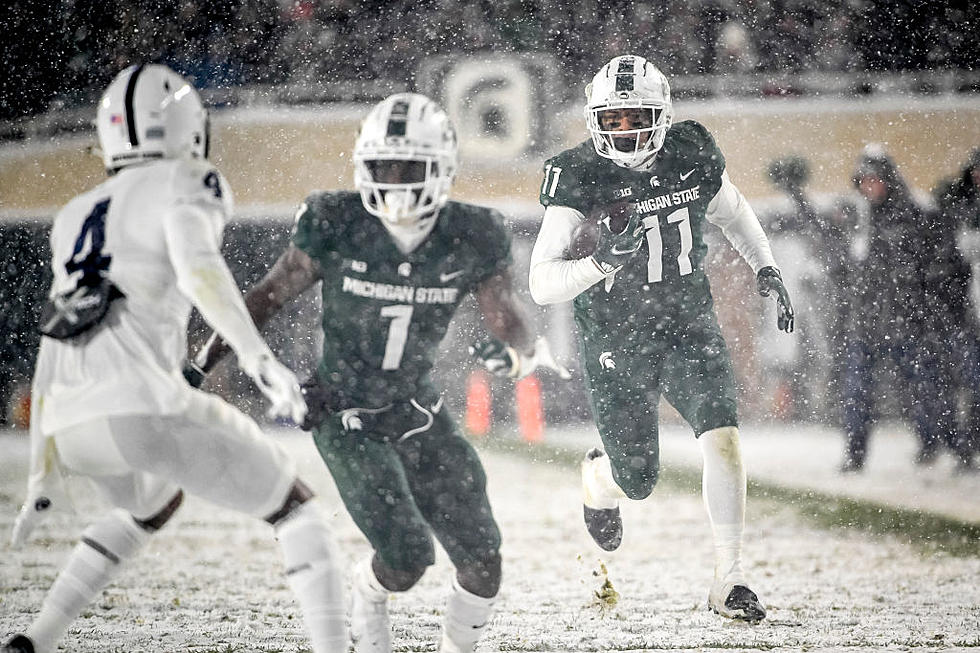 Michigan State Will Host Penn State On Black Friday Thanks To Big Ten, Kevin Warren Screwing Up
Getty Images
If you thought attendance was bad when Michigan State hosted Penn State in a meaningless, post-Thanksgiving game amid snow globe conditions in 2021, just wait until this season.
MSU will reportedly welcome the Nittany Lions to Spartan Stadium on Black Friday this year (Nov. 24). It's hard to imagine a crowd of  30,000 even, considering the myriad undesirable circumstances, which include but aren't limited to:
Below-freezing temperatures that will feel bone-chilling to rear ends planted on unforgiving metal bleachers.
Taking time away from family the day after a major holiday.
Taking time away from our nationally observed traditions of waiting in lines at stores and maxing out our credit cards on that specific day.
A matchup that will in all likelihood have no real impact on the final outcome of the Big Ten or national college football races.
Unless you're looking for an excuse to get away from the in-laws sooner, MSU playing on Black Friday really sucks. But what sucks even worse is the reason this scheduling abomination is happening.
According to an exposé by Pete Thamel at ESPN.com, former Big Ten Commissioner Kevin Warren really screwed the pooch with the league's new TV deal. Yes, I'm talking about the same deal that will earn the Big Ten and its member schools a cumulative $1 billion annually.
Turns out Warren over-promised on behalf of the conference's schools — he committed some other stunningly incompetent oversights, too — and now his successor, Tony Pettiti, is scrambling to make things right so as to prevent the Big Ten and its members from losing money. Here's more from ESPN.com:
Nearly three months before the season kicks off and those TV deals begin, the Big Ten does not have completed longform contracts, which include the fine print details. Instead, Petitti is engaged in significant "horse trading," according to multiple sources, to get the NBC primetime deal finished and figure out what the network calls "outstanding issues" in order to uphold as much value as possible.

"These deals aren't done, and they aren't what they were represented to be from the standpoint of the NBC deal and the availability of all members to participate in November games in primetime," said an industry source.

Interviews with nearly a dozen sources in and around the Big Ten and the college sports industry paint a picture of Petitti sprinting to navigate details left unresolved from his predecessor.

As a result, there's a trail of unhappy athletic directors seeing money disappearing from their bottom line, frustrated television executives and big-name coaches irked about the lack of transparency in details that weren't communicated to them.
Yikes.
Something else Warren either neglected to address or just didn't know about was a time honored understanding that Big Ten schools wouldn't be forced by their TV partners to play night games once the calendar flipped to November. That was news to NBC, who is paying premium money to feature a Big Ten game each week during prime time. Naturally, NBC is holding up the money until or unless the league gives it enough assurances that that weekly scheduling feature will happen, even into November.
Michigan State agreed to the Black Friday game as part of negotiations between the Big Ten and NBC regarding this matter, per ESPN. Ohio State agreed to hosting MSU on Nov. 11 at 7:30 p.m. eastern for the same reason.
Awesome job by Warren and everyone else at the league headquarters. Big Life. Big Stage. Big Screw-Up!
That's not all, either. Take a look at the other problems wrought by the Big Ten's prior regime that Pettiti and Co. are now hurriedly trying to clean up:
The conference and its member schools owe Fox about $40 million because Warren promised the 2026 Big Ten football championship game to NBC despite Fox owning those exclusive rights.
They also owe Fox another $25 million for lost revenue from the pandemic-shortened 2020 season. This one is on Warren, too, since a deal he had previously cut with Fox to make up for the shortfall didn't work.
The aforementioned issues with a weekly night game on NBC could result in losses in the eight-figure range.
What an embarrassment.
It's hard to believe the chief executive of the oldest, richest conference in college sports could be so incompetent. Then again, maybe Warren was just playing fast and loose since he was on his way out.
Who knows. It's not like it makes a difference, anyway.
One thing's for sure, though. Warren sounds like a perfect fit for the dysfunctional calamity that is the Chicago Bears' leadership.
What Could Happen In The Aftermath Of The Big Ten Poaching USC and UCLA
USC and UCLA are defecting the Pac-12 for the greener (read: richer) pastures of the Big Ten. This development sends the already-chaotic world of college sports into further chaos. Here's what could happen next.
Michigan State's Protected Rivalries In A Division-Less Big Ten
There's much speculation that the Big Ten will abandon it's division-based format for football in the 2024 season.
If/When that happens, each team will likely have three opponents that are protected. That means that those specific games will be played each season.
With that in mind, we've come up with some choices for Michigan State's three protected games in a division-less Big Ten.
How TV Networks Are Ruining College Sports
As major college sports sells off the final bits and pieces of its dignity and soul, the industry is growing more and more unrecognizable to longtime fans. The never-ending drive for added revenue and new revenue streams has given TV networks hegemony over college sports the likes of which we've simply never seen. It's good for business, but hardly ever good for anyone else.