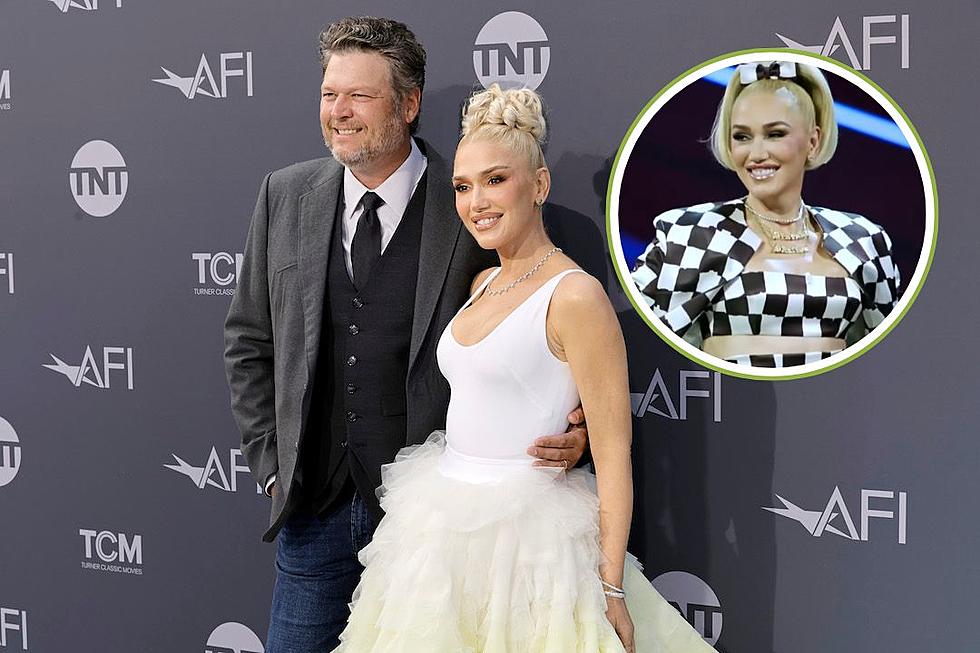 Gwen Stefani Paid Subtle Tribute to Blake Shelton on 'The Voice' Season 24 Premiere [Watch]
Kevin Winter, Getty Images/YouTube
On Monday night (Sept. 25), The Voice proved that the show really can go on without Blake Shelton.
But although Shelton might be retired from the show, he's definitely not forgotten, and no one was feeling his absence more keenly than coach Gwen Stefani, who also happens to be his wife. As Stefani traded barbs with her fellow coaches and worked to lure promising contestants to her team, she kept a subtle tribute to Shelton close to her heart — literally.
The singer sported her gold "Stefani" and "Shelton" necklaces for the first episode, a subtle homage to her own personal "home team" that she paired with a black-and-white checkered ensemble and matching hair bow.
Stefani has rocked the necklaces on the show before, and she's also got a history of wearing the names of her loved ones somewhere in her outfit on special days. When she and Shelton got married back in 2021, she wore a custom wedding veil with his name hand-embroidered into the hem, along with her own name and the names of her three sons.
The singer first debuted her outfit — including the special necklaces — in a teaser clip that aired ahead of The Voice's Season 24 premiere.
The new season of the reality singing competition kicked off with an action-packed first episode, marking the first time in show history that Shelton hasn't been sitting in one of the four coaches' chairs. He had a bar-raising country replacement, with "Queen" Reba McEntire kicking off her tenure as coach and even securing two country contestants to her team in the very first episode.
But just because Stefani was missing Shelton didn't mean she wasn't competitive. The pop superstar even went head-to-head against McEntire to recruit a country contestant to her team — and bested McEntire's pitch.
The Voice airs on NBC every Monday at Tuesday at 8PM CT.
Blake Shelton's Winners From 'The Voice': Where Are They Now?
How many of the nine Team Blake winners from
The Voice
can you name?
Blake Shelton
is the show's winningest coach, and several have had hits at country radio and beyond. Several more have shifted genres, changed their name or just flat-out gone missing. Here is the latest on every Team Blake winner from
The Voice.