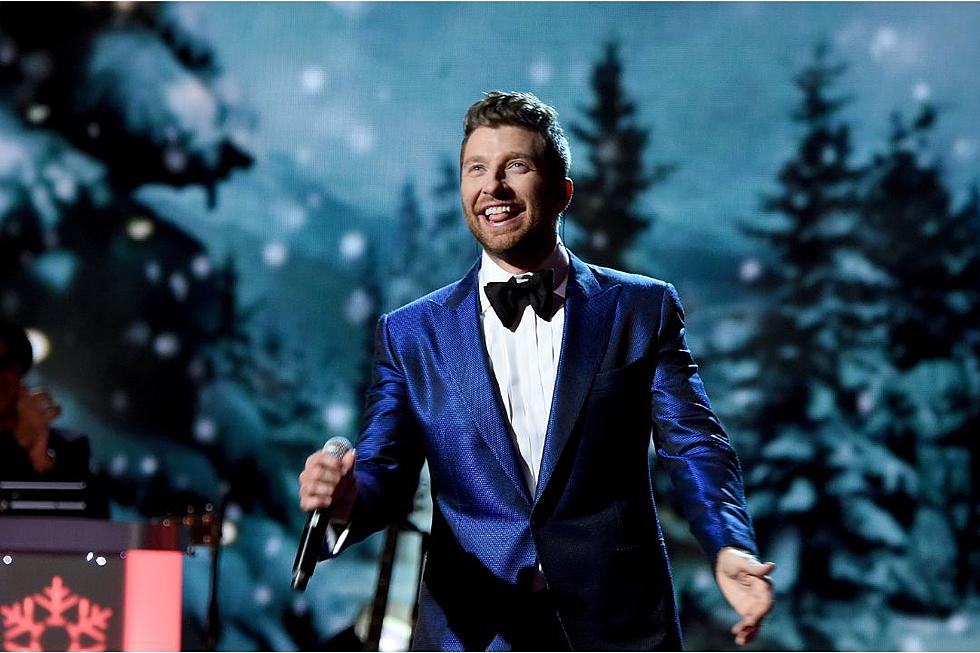 Brett Eldredge Reignites 'Glow' Live Tour With 2023 Dates
Rick Diamond, Getty Images
It just wouldn't be Christmas without Santa, presents and Brett Eldredge. The country singer will once again embark on his annual Glow Live Tour in 2023, which has become a staple around the holidays.
"The Glow Tour has now become a big, beautiful Christmas tradition," Eldredge says in a press release. "I love kicking off the season with all of you. I'm excited to return to some of my favorite cities and add some new cities including Detroit, Philadelphia and Milwaukee. To me, it's definitely the most wonderful time of the year."
The man who has become known as "Mr. Christmas" will kickoff a 14-date trek with three straight nights at Nashville's Ryman Auditorium starting the day after Thanksgiving. He'll then make his way to several other cities before wrapping things up on Dec. 21 in St. Louis.
It will be nice to see Eldredge back on the road — aside from four overseas shows, he has been fairly quiet for most of 2023. He tells Taste of Country it's by design.
"I've really been spending time reflecting on my life," he explains. "I've been touring for over 10 years straight, and I wanted to take some time to breathe and be around family and friends and grow relationships."
The "Good Day" singer has always been an advocate for mental health, and he famously went off the grid in 2019. During that time he took a long break from his smartphone and only used a flip phone for all communication. Getting away from the noise — even if just for a moment — has helped him rediscover a love for music.
"Through the time off, I've been writing a lot of music for fun. It's obviously going to be for a project, but I've learned that instead of trying to write something that has to fit into a box or whatever, I'm just having fun writing," he shares. "And it's allowed me to go to some deeper places that I'm not sure I would have been able to if I had not taken this time. Some different sounds that people haven't fully heard from me yet, and I'm ready to expand with all this music and it's really coming together."
Details about a new project from Eldredge have yet to be revealed.
Brett Eldredge's 2023 Glow Live Tour Dates
Nov. 24 - Nashville, Tenn. @ Ryman Auditorium
Nov. 25 - Nashville, Tenn. @ Ryman Auditorium
Nov. 26 - Nashville, Tenn. @ Ryman Auditorium
Dec. 1 - Chicago, Ill. @ The Chicago Theatre
Dec. 2 - Chicago, Ill. @ The Chicago Theatre
Dec. 5 - Boston, Mass. @ MGM Music Hall at Fenway
Dec. 6 - Philadelphia, Penn. @ The Met
Dec. 8 - New York, N.Y. @ Beacon Theatre
Dec. 9 - New York, N.Y. @ Beacon Theatre
Dec. 15 - Detroit, Mich. @ Fox Theatre
Dec. 17 - Grand Prairie, Texas @ Texas Trust CU Theatre
Dec. 19 - Indianapolis, Ind. @ Murat Theatre at Old National Centre
Dec. 20 - Milwaukee, Wisc. @ Miller High Life Theatre
Dec. 21 - St. Louis, Mo. @ The Fabulous Fox
11 Best Brett Eldredge Songs
Brett Eldredge
songs are dependable — fans can rely on the fact that if it has his name on it, it's going to be a quality tune, as you'll see in the list of best Brett Eldredge songs.