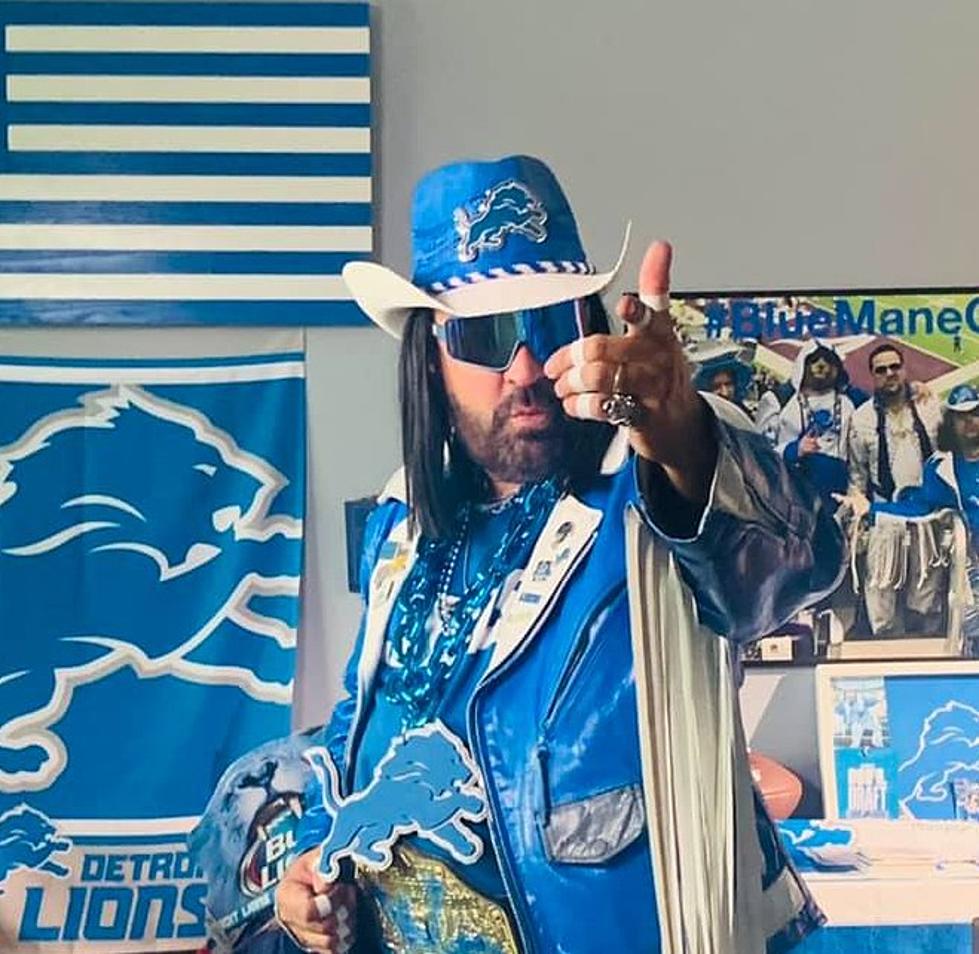 Flint Man Wins Detroit's Biggest Lions Fan Contest
Gary Campioni via Facebook
Update: 2/18/22 - Sunday, February 20th is the last day to vote for Flint's own Gary Campioni for Detroit's Biggest Fan. Click here to vote for Gary! Check out a recent interview with Gary on WNEM below. Go Gary!
Update 2/9/22: Gary Campioni of Flint was recently named Detroit's Biggest Lions Fan thanks to your votes. Gary is now in the running to be named Detroit's Biggest Sports Fan overall. Please take a minute and vote for Gary - it takes less than one minute. Let's help this awesome local fan win! Click here to vote.
I am absolutely thrilled to announce that my friend and long-time Banana 101.5 listener Gary Campioni has been named Detroit's Biggest Lions Fan! Gary told me the news yesterday and I could not be more excited for him.
The contest winner was determined by public voting. Gary was up against four other die-hard Detroit Lions fans. Congrats to all of the finalists, you should all be proud. You know as well as I do, rooting for the Detroit Lions is not always easy. Much respect to all of you.
Gary Campioni has been featured countless times on Detroit Lions promotional videos, the NFL Draft, and more. If it is Detroit Lions related, Gary is a part of it. Campioni is known as 'Macho Mane' and belongs to a group of fellow Lions fans called 'Blue Mane Group'.
So what did Gary win other than the awesome title of Detroit's Biggest Lions Fan? A lot! Gary Campioni scored the "Ultimate Fan Cave Makeover" up to a retail value of $15,000.00. For wining, Gary will receive a list of items to choose from such as a TV, speaker system, seating, and Detroit Team memorabilia and signage.
But wait, there is more! Gary Campioni is now in the running to be named Detroit's Biggest Fan overall. Gary will be going head to head with other Detroit sports teams fans for the title. This will once again be determined by the public. Voting begins on Monday, February 7th through Sunday, February 20th. You can vote once per day.
In honor of his recent win, Gary will be taking part in the annual Polar Plunge on Lake Fenton to benefit Special Olympics this Saturday at the Fenton Moose Lodge. I look forward to seeing you there. Check out some awesome pictures of Macho Mane (Gary Campioni) below.
Detroit's Biggest Lions Fan Winner Gary Campioni