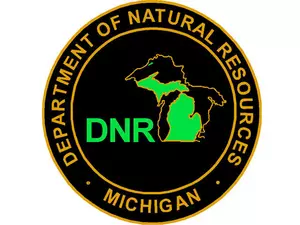 DNR: Quit Stacking Rocks Up North – You're Killing Stoneflies!
Courtesy MI DNR
Tourists visiting Tahquamenon Falls State Park in the Upper Peninsula are being asked to stop stacking rocks. I've never had the urge, but according to MLive.com, some tourists like to stack the flat sandstone rocks laying in and around the Tahquamenon River. Sure, stacking rocks gives the kids something to do, but when you pull those rocks out of the water, you're destroying the hangouts of many stoneflies. And who likes to eat stoneflies? Big, fat, delicious Michigan trout (among other delicious fish) Here's a post from troutnut.com to show you what they look like when they grow up. According to a DNR Facebook post, the park naturalist (a nice lady named Katie) says,
"all the habitat these little guys need to live on are being stacked up and taken away from them," the park naturalist said. "They're not going to live much longer if they don't have anywhere to stay. The best things to do is knock these towers back over and put the rocks back in the water." she said.
And who likes to throw rocks into rivers? Your kids. In fact, all kids love to throw rocks. So, why not go on a mission to throw rocks back in the Tahquamenon River. It's better than throwing rocks at brothers and sisters and you'll be saving the homes of stoneflies. Not to mention making Michigan trout happier. And fatter. And who doesn't like fat trout?.
Banana Don and Stephanie McCoy amuse and thrill you every weekday morning from 5:30 – 10AM on the radio at 100.7 WITL.
Noted zythologist and all-around fun guy Banana Don can be reached via email at don.jefferson@townsquaremedia.com and @WITLFM. Also, Facebook friend Banana Don and Stephanie at Facebook.com/BananaStephanie and Facebook.com/WITLFM.
Plus – check out the new WITL app. It's much better than any other app – ever.