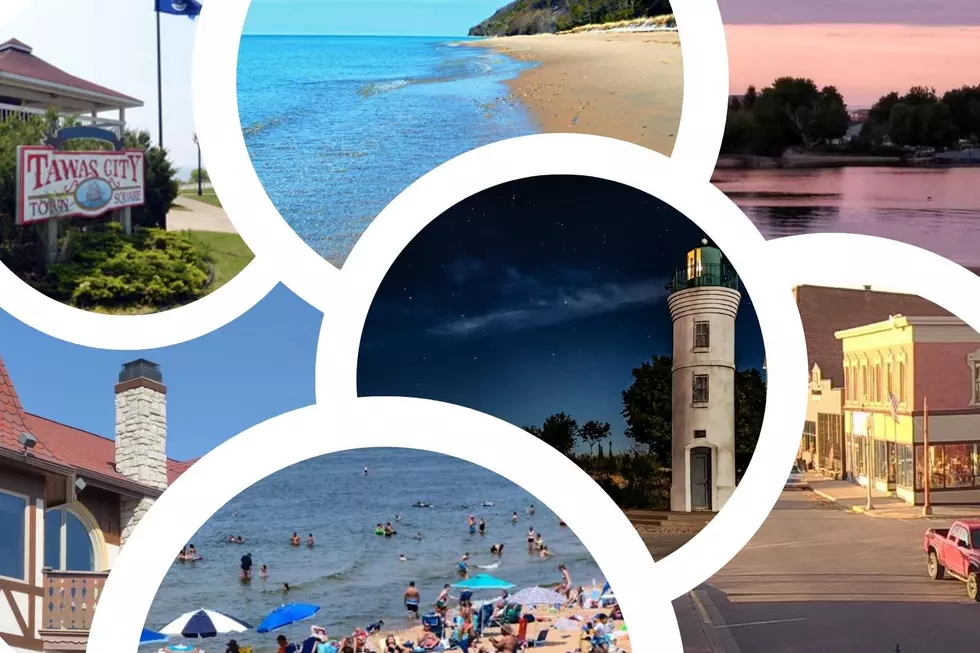 13 Small Towns Named Michigan's Best Getaways
Photos via Canva, tawascity.com, grandmaraismichigan.com, petoskeychamber.com, saugatuckcity.com, Peggy Sue Zinn at Unsplash, and the Superior Properties Real Estate Fifth Street Webcam
Travel + Leisure magazine, widely regarded as a premier source for tourism recommendations and information, has named thirteen small Michigan towns among its best getaway destinations.
Michigan's Upper Peninsula and Lower Peninsula are both well-represented on the unranked list. Most (but not all) of the entries are along the shores of Lake Michigan, Lake Superior or Lake Huron.
Alphabetically, here are the 13 towns that made the cut, along with some of the remarks made by T+L.
---
Calumet
Calumet boasts a population of less than 800 people, and is located on the Keweenaw Peninsula, jutting into Lake Superior. Travel + Leisure loved Calumet's "hiking trails and craggy coastline aplenty", and referred to the town as a "great base" for exploring Copper Country.
---
Empire
Empire is situated on Lake Michigan, about half an hour west of Traverse City. Its official population in barely 300 people, but as many small towns along Michigan's coasts do, it sees that count swell in the summertime. It's part of the Sleeping Bear Dunes National Lakeshore, which T+L revered for "panoramic coastline views, immersive trails, and dark skies for stargazing".
---
Frankenmuth
You knew Frankenmuth would be on this list, didn't you? Travel + Leisure called this tiny slice of Bavaria a perfect destination for all seasons with a "charming Hallmark holiday movie feel". The magazine also noted Frankenmuth's year-round attractions, including "eclectic shopping, historical attractions, and outdoor adventures".
---
Grand Marais
Back to Lake Superior we go for Grand Marais, the eastern gateway to the famous Pictured Rocks National Lakeshore. T+L pointed out highlights ranging from "waterfalls to lighthouses to trails primed for hiking and biking".
---
Leland
Leland (on Lower Michigan's pinky, if you will) is home to Fishtown and the Whaleback Natural Area: The Leelanau Conservancy. Travel + Leisure loved the area's locally-grown wine, scenic ferry trips, and "historic fishing shanties that now house cool small businesses".
---
Mackinac Island
If Mackinac Island wasn't on this list, T+L would have lost a lot of credibility. Arguably Michigan's most beloved tourist destination, it was also designated Best Island in the Continental U.S. in the magazine's annual World's Best Awards. The writers referred to Mackinac's "old-school grandeur" as "beyond charming".
---
Munising
Pasties and whitefish tacos helped land Munising a spot on Travel + Leisure's list of Michigan's best small town getaways. Mother Nature helped too. The city of around 2000 people boasts proximity to both Pictured Rocks and the Hiawatha National Forest. The magazine noted the area's "endless opportunities for kayaking, hiking, camping, ice climbing, chasing waterfalls, and more".
---
New Buffalo
You can't get much further southwest in Michigan than New Buffalo. Less than 10 minutes from the Indiana line, New Buffalo is also just a little more than an hour from Chicago. Travel + Leisure touts its "stunning Lake Michigan views" and "massive public beach" as chief attractions.
---
Petoskey
Petoskey is another entry that had to be on this list. T+L calls Petoskey "not only one of the best small towns in Michigan, but also the entire Midwest", reminding readers that hunting for local stones at Petoskey State Park is a must. If you didn't, did you really even visit Petoskey?
---
Saugatuck
Saugatuck is another of Travel + Leisure's favorite Michigan small town getaway destinations. Part of Michigan's "art coast", this gem is located on the shores of Lake Michigan about 40 minutes southwest of Grand Rapids with "something for everyone, (including) six beaches, a thriving art scene, and local eateries and breweries".
---
St. Ignace
You may be saying "Hey, wait a minute... if this list is alphabetical, St. Ignace should come before Saugatuck!" If this is you, this is a sign you need a vacation to one of these places. St. Ignace is perhaps best known as the Upper Peninsula access point for the ferry to nearby Mackinac Island, but T+L thinks it deserves its own recognition for its "bevy of historic attractions, stunning beaches, and outdoor fun".
---
St. James
St. James, Michigan [Photo by Cwbash via Wikipedia (CC BY-SA 3.0)][/caption]You can't drive there from here. You can only get to St. James by boat or plane, thanks to its location on Lake Michigan's Beaver Island (roughly 40 miles northwest of Petoskey). Travel + Leisure says if you go, be sure to visit "iconic Beaver Island Harbor Lighthouse and Beaver Island Marine Museum".
---
Tawas City
About 1800 people call Tawas City home year-round, but the area's population grows substantially during tourist season thanks to its location along the eastern shores of the Lower Peninsula on Lake Huron. Travel + Leisure calls Tawas City "ideal for travelers seeking tranquility, with a mix of small-town charm and outdoor offerings".
Michigan's 20 Smallest Cities and Towns
Michigan's population is 10.05 million people. We have many big cities. We also have tiny cities and towns in Michigan. Here are the smallest cities or towns in Michigan.
50 of Michigan's "Must-Drive" Roads
Gas up the car, grab those road munchies and a roadtrip partner that you can trust, and head out on some of Michigan's most unique roads and routes. Make sure you take lots of photos and video!
Photo of "St. James, Michigan" by Cwbash via Wikipedia (CC BY-SA 3.0 – no changes made)