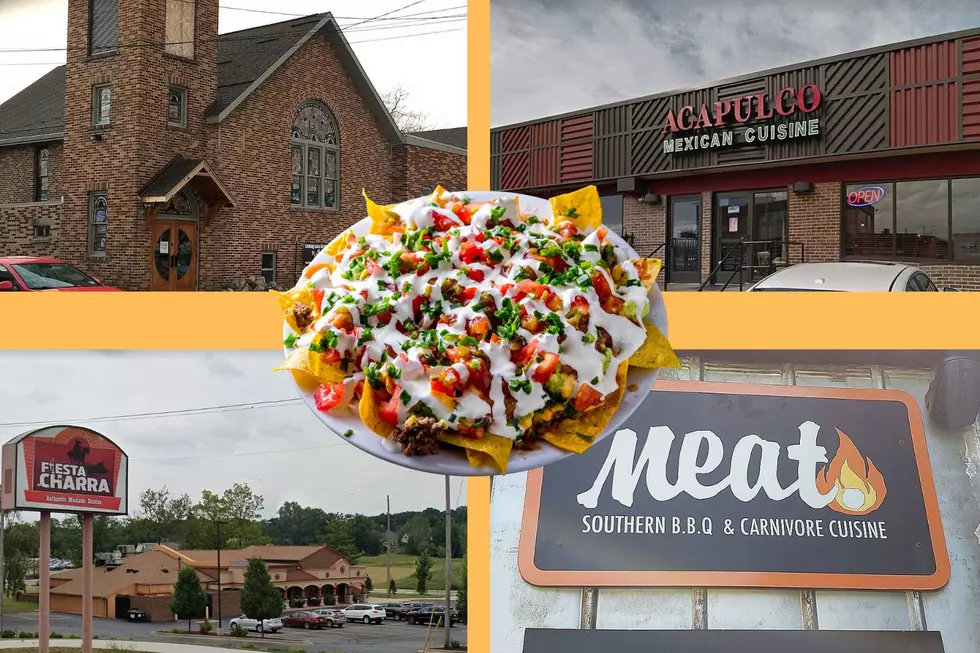 Where to Find the Best Nachos in the Lansing Area
Google Streetview, Chris Tyler TSM Lansing, McConnell Adams TSM Lansing, and Canva
Nachos are one of those iconic foods that you can add just about anything to, and it's probably going to be delicious.
You have your classic nachos with corn tortillas chips, covered in beef or chicken, as well as tomatoes, onions, cheese, and sour cream. Or, you can take them in a totally different direction. Maybe instead of corn chips, your fry wonton wrappers and cover them in teriyaki chicken, kimchi, green onions, and spicy mayo?
Regardless of the type of toppings, I think we can all agree that the best way to serve up nachos is on a long platter as opposed to a piled-high mountain. That way, each chip gets a little bit of all the toppings. I hate it when you get to the bottom of the nacho pile and all that's left is a bunch of dry, untopped chips. But I digress...
Best Nachos in Lansing
No matter how you might enjoy your nachos, Lansing's food scene has you covered with an assortment of toppings and restaurants that serve them up. And thanks to those amazing Lansing Foodies and their helpful and delicious Facebook group, we have a pretty good idea of which restaurants in the greater Lansing area are serving up the best nachos. Take a look at the list below and get your tastebuds ready for deliciousness.
MEAT BBQ in Old Town Lansing
MEAT's nachos come with brisket, bacon, and pork, various veggies, and gets topped with one of their signature BBQ sauces, making for a hearty appetizer or a filling meal.
The platter of supreme nachos that Buddies serves up is enormous.
Art's Pub has four different nachos available to satisfy any type of flavor you might be craving. There's more of a traditional one; there's a vegan option; one pick comes with brisket and a roasted red pepper blend that is savory and spicey; and the last nacho comes with jerk chicken and pineapple, giving it a sweet and spicy kick.
Lansing Brewing Company serves up a delicious nacho option that's a cross between the traditional and unique. It comes with black beans, pico de Gallo, and corn relish. However, it also comes with fried wonton chips instead of corn or flour tortillas, and it gets topped with BBQ sauce.
If you prefer nachos with more traditional toppings and delicious flavor, Pancho's is the place to go.
Gravity serves up BBQ nachos. It comes with your choice of smoked meat, BBQ beans, cheese, veggies, and BBQ sauce.
Acapulco serves up nachos three ways, but the "Nachos al Carbon" seems to be the most popular. It comes with chicken, steak, and shrimp, along with pico de Gallo, cheese, and lettuce.
Gumps BBQ is another restaurant serving up BBQ nachos. These have some meat, cheese, and veggies on top, and it also gets a combo of Gump's sauce and BBQ sauce.
Looking Glass sounds like it has some of the most interestingly topped nachos I've come across, and they sound delicious. It comes with Wonton chips topped with beer cheese, Voodoo BBQ, pineapple salsa, black beans, pickled onions, pickled peppers, chipotle aioli & scallions.
Best Nachos
Lansing Area Bars and Restaurants That Serve Amazing Mocktails
Whether you are a pregnant person, a sober person, an underage person, or just a person who doesn't feel like drinking alcohol at the moment, there's got to be something out there for us, right? That's when I discovered the beauty of a mocktail. If you don't drink alcohol, for whatever reason, there are some fantastic restaurants and bars in Lansing that serve up more than pop and lemonade. Check out these spots that have amazing mocktails.
10 Lansing Area Eateries with Heated Outdoor Dining
Michigan winters can be tough when it comes to going out and enjoying some food or drink outdoors. No worries, these greater Lansing area bars, and restaurants have you covered. All the locations listed below feature heated outdoor seating in some way. Whether it's with a fire-pit table or an outdoor igloo seating space, these places will keep you warm and toasty this winter.