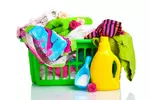 Robber Will Have Best-Smelling Clothes Ever
Photo Courtesy of ThinkStcok
Police in Pennsylvania are on the look-out for a man who stole a bunch of laundry detergent. Yep, laundry detergent.
According to ABC27, the man loaded up his shopping cart with more than a dozen 150-ounce bottles of laundry detergent early Tuesday then left the Giant Food Store in South Hanover Township without paying. After reading this story, I've been struck with some funny laundry puns that I would like to share with the rest of the class...like:
He may have been DOWNY in the dumps.
Or...there's a big BOUNTY on his head.
And that's ALL I got...:)