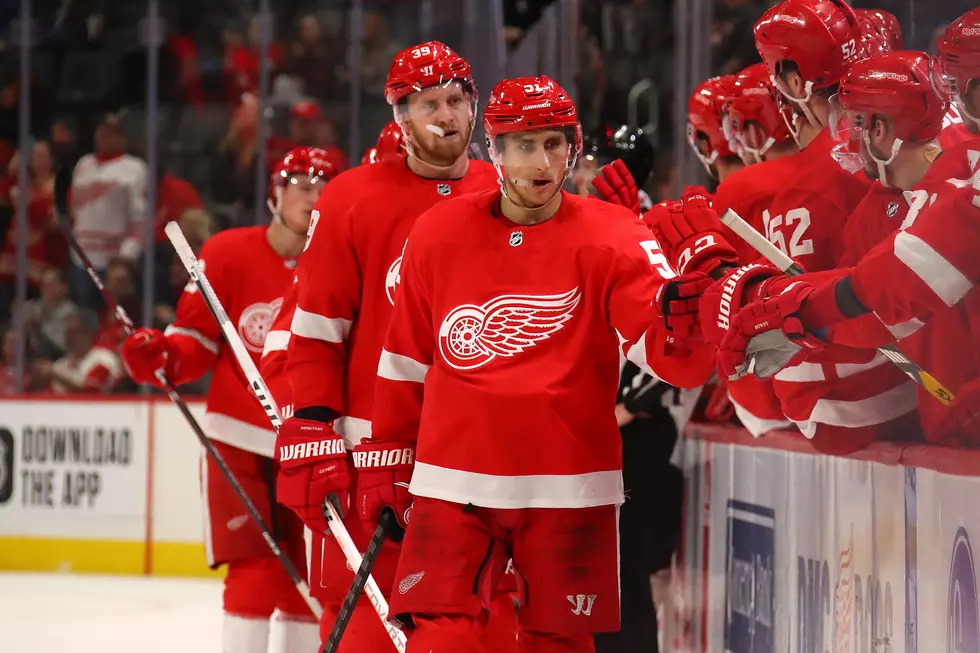 Red Wings Will Wear Ads On Their Heads This Season
DETROIT, MICHIGAN - FEBRUARY 25: Valtteri Filppula #51 of the Detroit Red Wings celebrates his third period goal with teammates while playing the New Jersey Devils at Little Caesars Arena on February 25, 2020 in Detroit, Michigan. New Jersey won the game 4-1. (Photo by Gregory Shamus/Getty Images)
The Detroit Red Wings will be wearing advertising logos on their helmets this coming season, as both the team and the National Hockey League look to make up for lost revenue due to the Covid-19 pandemic.
The Detroit News says the Red Wings have cut a multi-year deal with United Wholesale Mortgage. The business' logo will start appearing on the Wings' home, away and practice helmets during the season, which begins on January. 14. (This logo is certainly less conspicuous and less likely to be laughed at than the Chicago White Sox, whose ballpark is also now named for a mortgage company, Guaranteed Rate Field. That advertiser's logo is an arrow pointing down, which has spawned a fair amount of derision including the nickname "Zero Interest Field".)
The National Hockey League is also getting in on pursuing non-traditional revenue, having sold the naming rights to the league's four divisions.
With paying spectators not allowed, due to the pandemic, this is one small way to make up for the lost revenue. While sports like football pull in billions of dollars selling the television rights to their games, hockey broadcast revenue isn't quite that, though a new deal is in the works, that could see another carrier, possibly ESPN, sharing the rights.
As veteran Canadian hockey writer Pierre LeBrun said, "Money's gotta make. I get it. Been a tough year. The NHL will sponsor jock straps if it can."
But while advertising on uniforms has been rare in the big four American sports, NASCAR fans have seen this for years and have American soccer fans, and world-wide this has been commonplace in soccer and tennis, amongst other sports.
Enter your number to get our free mobile app
MORE: 7 Things That Annoy People From Small Town Michigan