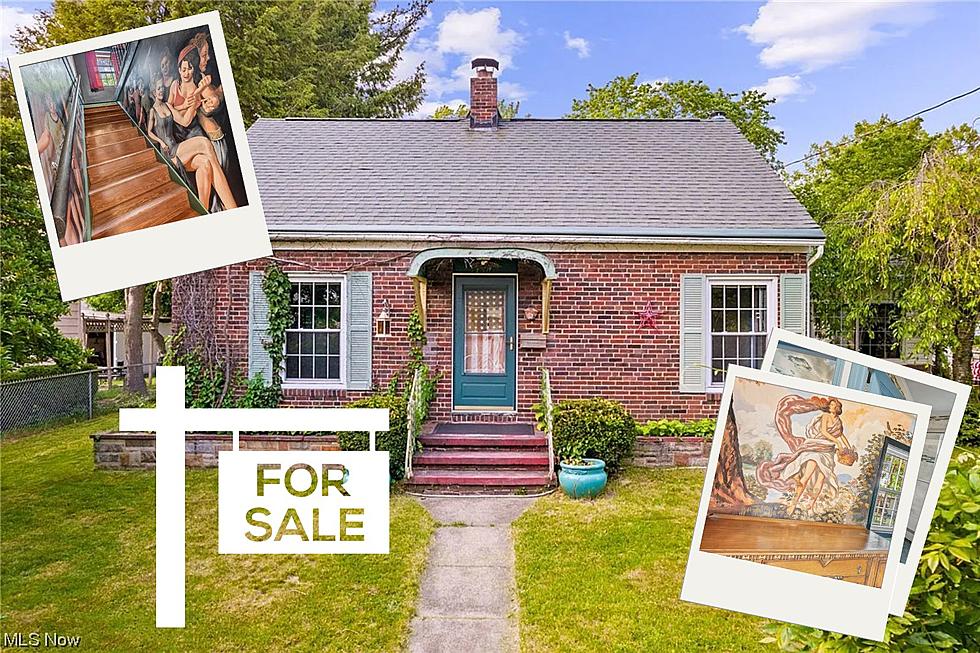 Unique Ohio Home For Sale with Breathtaking Murals
Courtesy of Coldwell Banker Schmidt Realty, Eric Cooper via Zillow and Canva Pro
Here it is... 757 Jason Avenue. It's just your average home for sale in Akron, Ohio.
Well, that's what you might assume based on curb appeal alone. However, the inside of this quaint home holds some secrets, ones that I'm going to clue you in on.
While this might look like a common brick house from the outside, the walls, and ceilings on the inside of this abode are adorned with hand-painted murals. Seriously, it's giving Sistine Chapel vibes.
Ohio Home For Sale is Covered in Murals
Over the course of over 10 years, mural artist Ralph Herzog painted room after room of this Cape Cod home. He happened to be friends with the former owner, Donald Nichols, who commissioned Herzog to paint the murals.
People, clouds, flowers, sheep, produce, and more cover the walls, ceilings, and cupboards of this nearly 80-year-old home. And the art isn't the only unique feature of this home. There are "stained-glass doors and one room that has a wooden floor Nichols salvaged from a church being torn down near his childhood home in West Virginia," according to the Akron Beacon Journal.
Homes Featured on Zillow Gone Wild
This home is one of many that have been featured on Zillow Gone Wild; a social media account that lists homes for sale that typically have something crazy unique about them. And this Akron, Ohio home fits the bill.
If you're a lover of art, you've got to see these amazing murals for yourself. I particularly like the one with the sheep on the ceiling. See for yourself in the pictures below.
Unique Ohio Home For Sale with Breathtaking Murals
If you're a lover of art, this home for sale might convince you to move to Ohio. Check out the photos of the inside of this home that's just covered in murals.
See Inside This Church Turned Mansion For Sale in Grand Haven, Michigan
This Storybook Home For Sale in Adrian, Michigan is the Home Dreams are Made Of