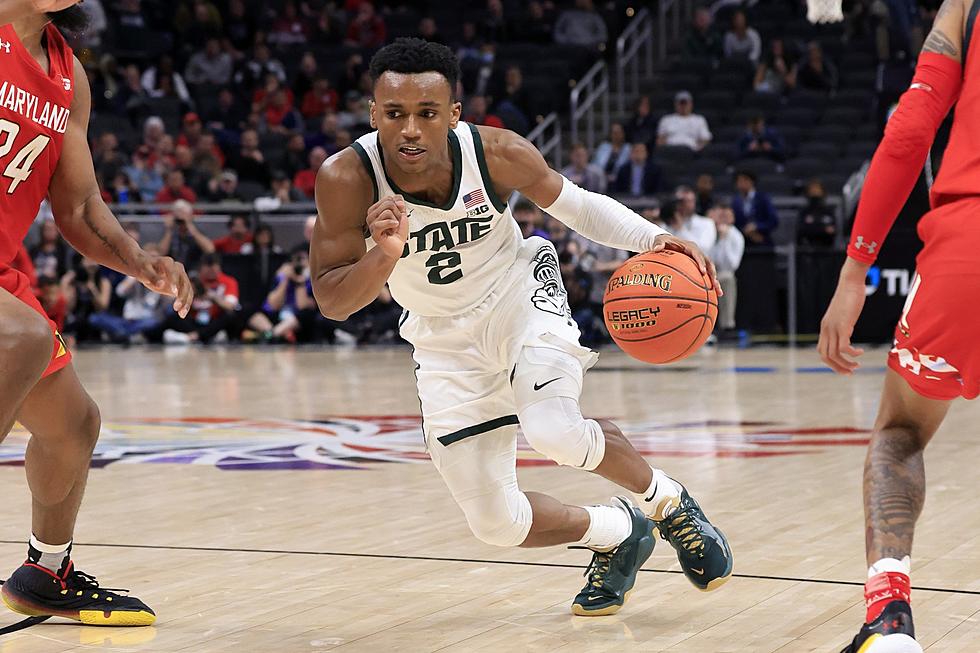 MSU Basketball: Right Seed, Tough Draw
Getty Images
Michigan State's men's basketball team finished the regular season with a 22-12 record after bowing out of the Big Ten Tournament semifinals on Saturday 75-70 to Purdue in Indianapolis.
With that record, the Spartans earned a number 7 seed in the West regional and will play former Spartan Foster Loyer and the 10th seeded Davidson Wildcats (out of the Atlantic 10) on Friday night at 9:40pm in Greenville, South Carolina.
Here are my thoughts on where the Spartans stand heading into Friday's contest:
Michigan State Got a Fair Seed for 2022
Michigan State's seed of 7 is absolutely what they should have gotten.  The wins over Maryland and especially Wisconsin at the Big Ten Tournament moved them above the 8/9 line and up to a 7.  Plus, the other good wins over Purdue, Michigan, and in non-conference play (Connecticut, Louisville, etc).  For a change, MSU fans can't complain about their seed.   However...
MSU's West Regional Draw is Tough
They got a tough draw.  First, they have to travel to Greenville, South Carolina.  Second, they have to play a credible opponent in Atlantic 10 regular season champion in Davidson.  Third, they have to play Friday night at 9:40.  And fourth, if they beat Davidson, they would likely have to play Duke in Round 2 on Sunday.  Not easy.
MSU Spartan Point Guard Injuries are a Problem
Ankle injuries to point guards Tyson Walker (pictured above) and A.J. Hoggard are a major problem.  They were both hurt against Purdue in the Big Ten semifinals on Saturday.  How well they can regroup (if they can play at all) before the Davidson game could determine how far they go.
Spartans Continue to Have Foul Trouble
The way MSU plays defense is why they are almost always in foul trouble when they get to the last 8-10 minutes of a game.  And if they run into officials who call the game closer, they could have a major problem, even in the first round.  But if they let MSU play, that could help them against Duke (assuming they play them in Round 2).
Michigan State's Overall Chances
This is FAR from Tom Izzo's best team.  They've had issues all season long with consistency at all positions.  But if Walker and Hoggard are anywhere close to healthy, that helps State's chances.  We've seen Coach Izzo take some less than stellar teams to the Final Four (2005, 2015).  And it would be a massive stretch to see them in New Orleans the first weekend in April.  But would it shock you if they made it San Francisco and the West Regional.  To me, surprise not shock.  We've seen it before.
I'll discuss Michigan's chances in the NCAA Tournament tomorrow.
Michigan's Greatest Sports Traditions
Part of the allure of sports is the sense of tradition, and these Michigan traditions are something that fans look forward to every year.