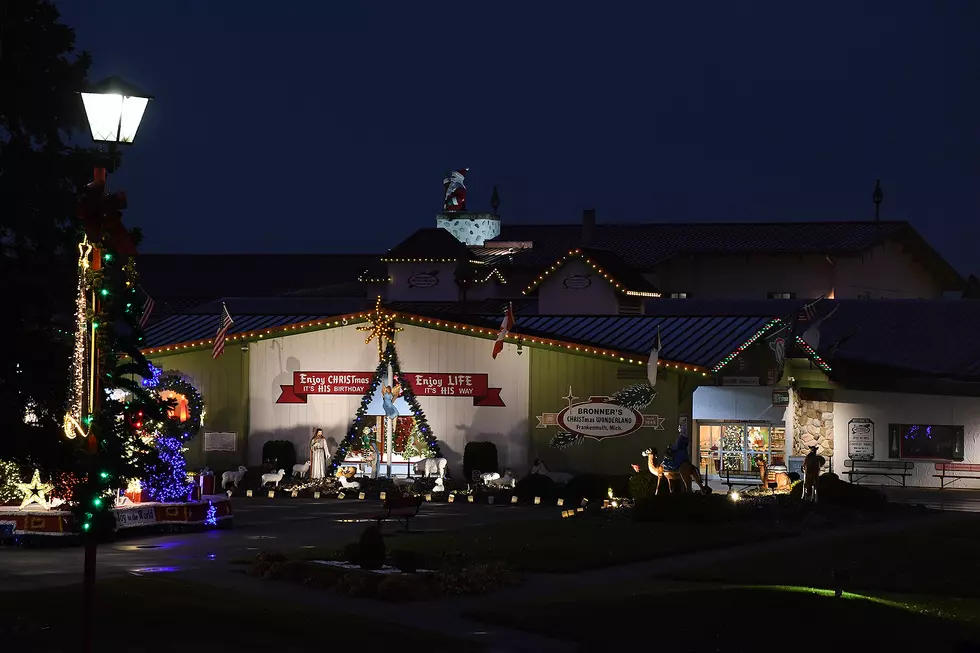 How Much Does It Cost To Run Bronner's Adorable Lights in Frankenmuth, Michigan?
Photo Credit: Bronner's. South Entrance At Dusk (No Changes Made)
If you've ever done a family road trip across the country, surely, you've noticed a seemingly randomly placed Bronner's Christmas Wonderland billboard along a highway. While relocating from Florida, back home to Flint, I passed the southern-most Bronner's billboard outside Ocala (north of the Mouse House).
One of my favorite family traditions is visiting the "World's Largest Christmas Store." After numerous visits, it occurred to me "this place must cost a fortune to operate."
How Much Is Bronner's Light Bill?
Every night from dusk to dawn, around 100,000 lights shine on the outside of the Bronner's property. Their drive is only about 1/2 mile, in length.  That's a LOT of lights. Then, consider the inside of the store -- they display all sorts of lights -- municipal (the big stuff that hangs on street poles and the sides of buildings) and hundreds of decorated trees, window decorations, lighted figures + heating & cooling the building.  Bronner's average electric bill is $1,250 per day. That's around $37,500 per month and approximately $450,000 per year.  (We thought our bills were high, right?)
How Many Nativities Does Bronner's Have?
This depends on what you're looking for, specifically. If you want to purchase Nativities, they sell over 250 types. Just looking to view Nativities? They have 570 from 65 nations on display in their program center.  Fun Fact: Each decorated tree features one nativity ornament.
When is the best time to go to Bronner's?
Bronner's Christmas Wonderland only closes four days each year.  That means almost anytime is the right time to visit.  Over 50,000 people visit during the weekend following Thanksgiving alone -- that's their busiest.  Every year over 2,000,000 people stop in. While you're walking through, notice how many employees are working.  Over 700 people are employed by Bronner's.  (See more nerdy details & trivia here.)
Can you still buy Hummel and Precious Moments figurines at Bronner's Christmas Wonderland?
Short answer: Yes.  Hundreds if not over 1,000 to choose from all year long.
Who owns and operates Bronner's now?
Following the passing of Wally Bronner in 2008, his wife Irene Bronner managed the operation with six other relatives.  Following Irene Bronner's passing October 16th, 2022, those other six relatives continue to run the family business. (Read more on her passing here.)
No matter the season, Bronner's is a staple "happy place" for many in my family. The holidays can be tough for some as we miss those we've lost. No doubt the Bronner family will experience that again this season, too.
Where do you park at Bronner's?
I wish you... good fortune finding the closest parking space at Bronner's. They have over 1,000 parking spots, but that doesn't mean it will be quick & easy. Dress warm in the winter and cool in the summer because you'll need to walk. Plus, the store itself is giant.  You'll get your steps in, for sure.
Curious to learn more about Bronner's?  Look here.
Michigan—Your Antique Ceramic Christmas Tree Could Be Worth Some Money
You may have seen this at your grandma's house growing up. It came out for Christmas, and you had to be extra careful around it so you wouldn't accidentally break it: antique ceramic Christmas trees. These vintage trees are making a huge comeback right now. You can find newer versions in stores, but it's the older antique ones that could be worth a good bit of money these days. Take a look at some ceramic Christmas trees below to get an idea of some of the styles you should keep an eye out for.
Christmas Light Displays Across Michigan
It's beginning to look a lot like Christmas! If you want to get into the holiday spirit, these Christmas light displays across Michigan are sure to put a twinkle in your eye. There are plenty here in Mid-Michigan and even more across the state. Find out where and when these light displays are happening.
5 Things Not To Talk About At Your Family Christmas Dinner