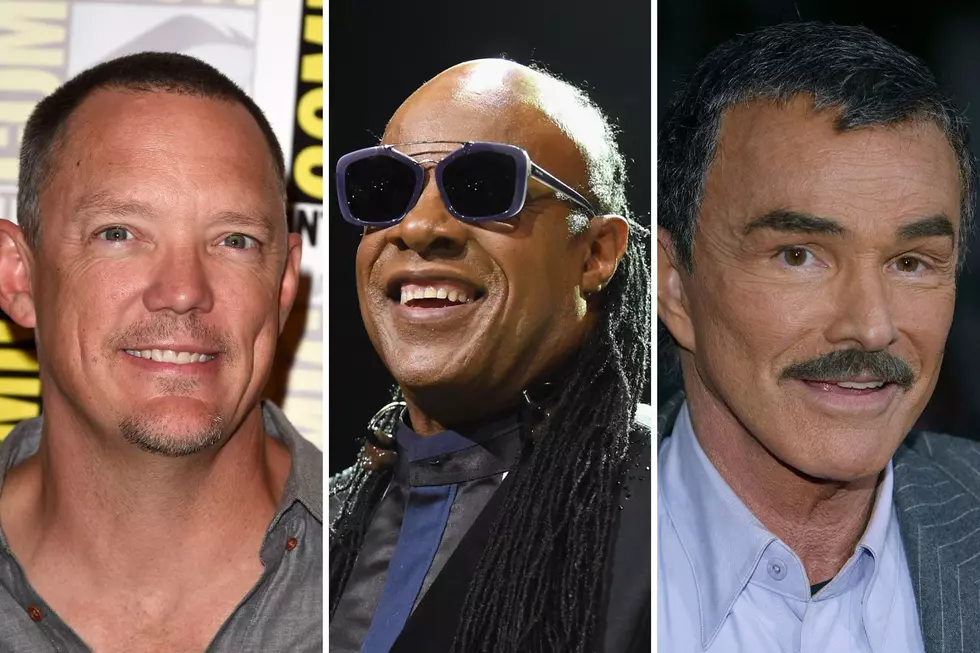 12 Celebrities With Ties to Lansing, Michigan
photo credit: Photo by Emma McIntyre/Getty Images for The Art of Elysium/Photo by Jason Merritt/Photo by Frederick M. Brown/Getty Images
Lansing is the home to many things. It's the State Capital. Michigan State is located about 2 miles east of downtown Lansing and we bleed green and white. Lansing is also the home to many celebrities that we've grown to know and love.
Some celebrities were born and raised here, some visited the area for a period of their pre celebrity life. Let's get to it.
12 Celebrities With Ties to Lansing, Michigan
Stevie Wonder is one of the greatest musicians of all time. Wikipedia states that Stevie was born in Saginaw, spent some time in Detroit as a kid and fter his first album was released, The Jazz Soul of Little Stevie (1962), he enrolled in Michigan School for the Blind in Lansing, Michigan. The rest is history.
Smokey was born in Lansing. Burt didn't always admit that he was born in Lansing. Wikipedia reveals that during his career, Reynolds often claimed to have been born in Waycross, Georgia, although in 2015, he stated that he was actually born in Lansing, Michigan. In his autobiography, he stated that Lansing is where his family lived when his father was drafted into the United States Army.
This big time star you've seen in the Scream & Scooby Doo movies is from Lansing. Wikipedia says that Lillard was born in Lansing, Michigan, on January 24, 1970, the son of Paula and Jeffrey Lillard (born 1948), and grew up in Tustin, California.
Chris Hansen. Yeah, the "To Catch A Predator" host. I had no idea about his history in Lansing. Wikipedia says that Hansen graduated from Michigan State University with a Bachelor of Arts in telecommunication in 1981. In 1981, Hansen became a reporter for NBC affiliate WILX in Lansing, Michigan during his senior year at Michigan State University. Knowledge is power.
Long time Emmy Award winning actor Timothy Busfield was born and raised in East Lansing. Timothy was in town last weekend to be the keynote speaker at the Michigan State Baseball First Pitch Dinner. He loves his stomping grounds. I interviewed him recently and his go to burger while in EL is a Dagwood's Olive Burger. You know him as Poindexter from Revenge of the Nerds, West Wing, Thirty Something and the list goes on.
How about Larry Page! This guy is a smart dude. I had no idea about his ties to East Lansing. WIkipedia says Page was born on March 26, 1973, in Lansing, Michigan. Page attended the Okemos Montessori School (now called Montessori Radmoor) in Okemos, Michigan, from ages 2 to 7 (1975 to 1979). He attended East Lansing High School, graduating in 1991. In summer school, he attended Interlochen Center for the Arts at Interlochen, Michigan, playing flute but mainly saxophone for two summers. He is best known for co-founding Google with Sergey Brin.
The legend himself, Magic Johnson is from Lansing. Earvin "Magic" Johnson Jr. was born August 14, 1959. He helped Michigan State win the National Championship in 1979 and was the first pick in the 1979 NBA Draft. Wikipedia also says Johnson retired abruptly in 1991 after announcing that he had contracted HIV, but returned to play in the 1992 All-Star Game, winning the All-Star MVP Award. After protests from his fellow players, he retired again for four years, but returned in 1996, at age 36, to play 32 games for the Lakers before retiring for the third and final time. I remember when he announced his HIV retirement. That sure put HIV on the map and it created a lot of awareness.
Steven Frederic Seagal
was born April 10, 1952 in Lansing, Michigan. Steven Seagal was about as huge as movie stars got in the late 80's and 90's. You remember him from awesome movies like Above the Law, Hard to Kill, Marked for Death, and Out for Justice. His big hit came with Under Seige in 1992.
John Wilden Hughes Jr. was born in Lansing on February 18, 1950. Joh Hughes is responsible for so many cult classics like National Lampoon's Vacation, Mr. Mom, Sixteen Candles, Weird Science, The Breakfast Club, Ferris Bueller's Day Off,  Pretty in Pink, Some Kind of Wonderful, Planes, Trains and Automobiles, The Great Outdoors, Uncle Buck, Home Alone, Dennis the Menace and many more. John Hughes loved setting his movies in the Chicagoland area and I enjoyed wathcing them and seeing some areas in the Chicago area I am familiar with.
You'll know her from Grand Torino. Ahney Her was born and raised in Lansing, Michigan. Ahney was born in 1992. She went to high school at Sexton High School when cast for Gran Torino. Grand Torino was awesome and she was also in Batman v Superman: Dawn of Justice where she played hostage girl #1.
Susan May Pratt is a Lansing native. She was born February 8, 1974 in the Capital City. She's best known for her roles on in 10 Things I Hate About You, Drive Me Crazy and Center Stage. She has had dozens of TV roles, check them out here.
Cecil Taylor Nichols was born March 3, 1959 in Lansing. He is known for his roles in the Whit Stillman films Metropolitan, Barcelona, The Last Days of Disco, and Damsels in Distress. He has a lot of film credits that you can check out here.
42 Biggest Celebrities From Michigan