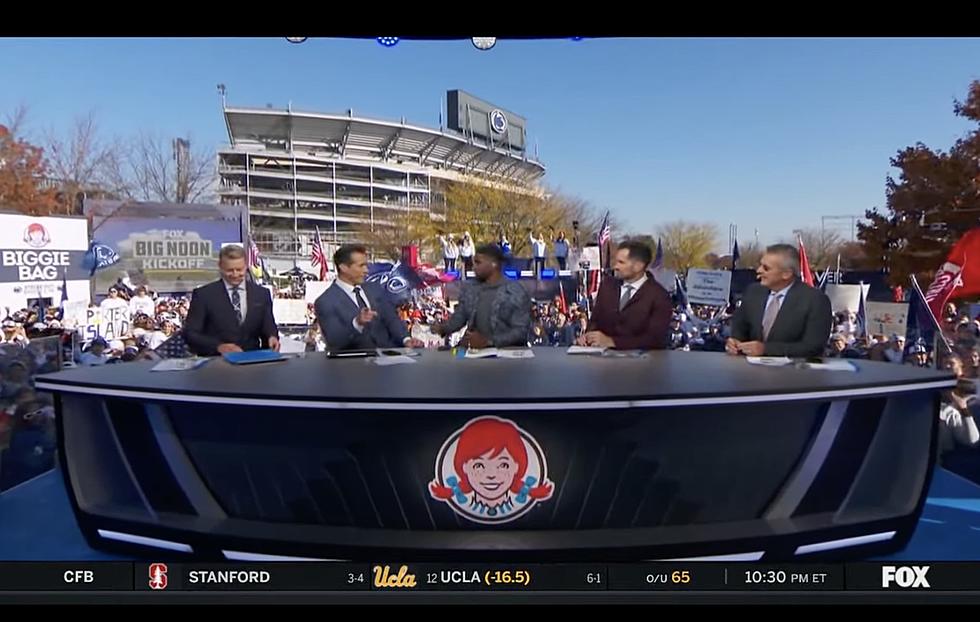 Big Ten Sold Its Soul To Fox, CBS, and NBC, Now Fans Have To Suffer
Fox | YouTube Screenshot
Nobody asked for Michigan State at Ohio State to be a nationally televised, prime-time game this coming college football season.
The Spartans are coming off an awful 5-7 mark in 2022. The Buckeyes are coming off back-to-back two-loss seasons, which is awful by their standards. But make no mistake, even with OSU having to replace six players lost to the NFL, including star quarterback CJ Stroud, MSU will enter The Horseshoe on Nov. 11 as an underdog by at least three scores.
Frankly, that lopsided point spread makes sense.
Ohio State has won seven straight against MSU. The Buckeyes have outscored the Spartans 282-74 over that span for an average 40-11 victory. It's been even more one-sided over the last three meetings, when Ohio State has blown out MSU by 52-12, 56-7, and 49-20 margins.
To make matters worse, Michigan State will be replacing from a season ago its starting quarterback, probably its best playmaker, and its greatest strength from 2022, punter Bryce Baringer (I wish that were a joke).
Why, then, would anyone think that pitting that dubious of a team against OSU under the lights in Columbus on Nov. 11 would make for a compelling game, let alone one the whole country should be subjected to? It makes no sense even in a vacuum, but when you consider the context it's even more maddening.
Michigan takes on Penn State in Happy Valley on the same day the Buckeyes will, in all likelihood, eviscerate the Spartans. The former is a far better matchup for a prime-time, national telecast, for a host of reasons. First of all, the Wolverines and Nittany Lions have had some exciting bouts of late, in a series that's been hotly contested. Each team has won three of the last six meetings, and they've also split the last two at Beaver Stadium — both of which were one-score affairs.
There's also the matter of atmosphere. A night game in Happy Valley is one of the veritable bucket list items in all of sports. With a whiteout in the stands and the volume deafening, it's truly a spectacle.
Oh, and one other thing. Michigan at Penn State has the potential to be one of the most important games on the entire college football calendar in 2023. The Wolverines' trip to Happy Valley is an obvious, no-brainer, home run for TV. It should automatically be booked for prime time.
But that would abide by the laws of common sense, which is something college sports simply doesn't do anymore. Why? Simple. Because the sport has completely sold out to TV networks.
The reason the entire country is going to have to watch the scene from "Jurassic Park" where they chained up the goat in the T-Rex pen on repeat for four hours MSU get thoroughly dismantled and outclassed by OSU on the evening of Nov. 11 is because the Big Ten essentially gave Fox control of its schedule as part of its billion-dollars-per-year media rights deal.
For some reason, Fox is determined to take college football back to the 1970s, when the earliest time slot was the most coveted. Per its new deal with the Big Ten, Fox gets first dibs for each week's slate of games, so the network has chosen Michigan at Penn State for its Big Noon Kickoff on Nov. 11, which, in turn, leaves NBC scrambling to find an adequate game for its weekly prime-time slot with the Big Ten. The remaining options that week aren't exactly enticing:
Maryland at Nebraska
Indiana at Illinois
Rutgers at Iowa
Minnesota at Purdue
Northwestern at Wisconsin
You can see why NBC is going with MSU at Ohio State. Even though it's going to be the equivalent of your local high school's freshmen B-team taking on the Kansas City Chiefs, it's better than the rest of that garbage schedule if only because one name brand with a ton of good players is involved.
This is the reality we live in now. TV networks wield all the power. Administrators at Power Five programs and conferences across the country, in their revenue arms race, have lost sight of what's best for the players, best for the schools, and best for the sport. Instead, the lone consideration is money.
That means you should be prepared for some of your favorite team's games to be exclusive to a premium streaming service. Hope you don't mind losing time-honored rivalries and traditions in the name of ad dollars, either. And yeah, you're gonna have to deal with snoozers like MSU at Ohio State in prime time because networks are trying to force square pegs into round holes elsewhere.
But hey, those revenue sharing checks have never looked better!
How TV Networks Are Ruining College Sports
As major college sports sells off the final bits and pieces of its dignity and soul, the industry is growing more and more unrecognizable to longtime fans. The never-ending drive for added revenue and new revenue streams has given TV networks hegemony over college sports the likes of which we've simply never seen. It's good for business, but hardly ever good for anyone else.