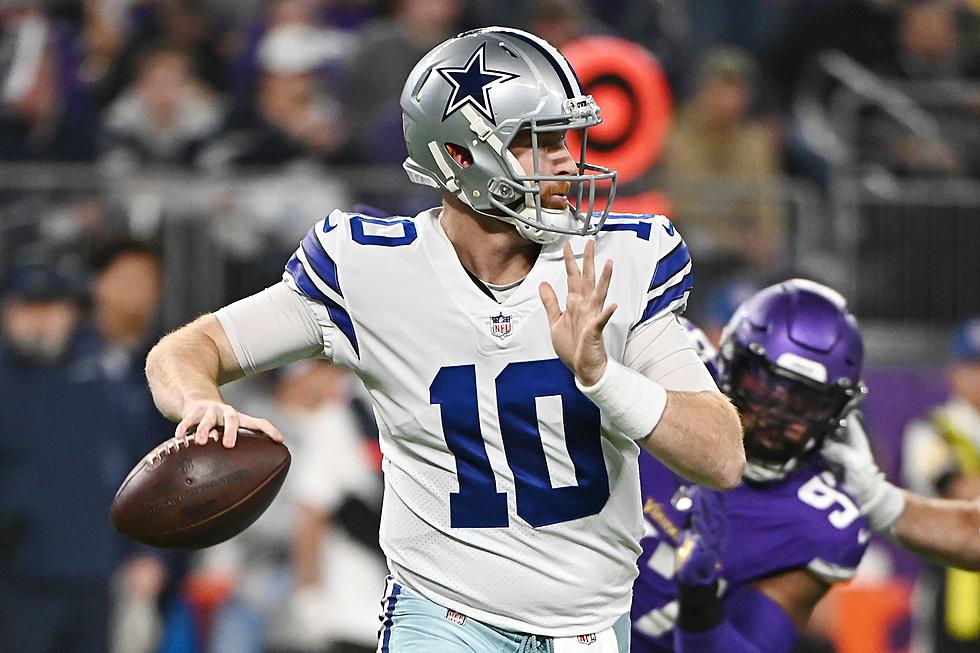 Former Lansing Catholic & CMU Star Rush Leads Dallas To Victory
Getty Images
Former Lansing Catholic High School and Central Michigan University star QB Cooper Rush (pictured above) led the Dallas Cowboys to a 20-16 victory over the Minnesota Vikings on Sunday night in Minnesota's U.S. Bank Stadium.
His 5-yard touchdown pass to former Alabama star Amari Cooper with 51 seconds left were the winning points.  He threw another TD pass to Cedrick Wilson (73 yards) early in the third quarter.
Rush was playing in place of starting QB Dak Prescott, who was out with a reported calf injury.  It was his first NFL start.
Cooper threw for 325 yards and two touchdowns in his first career start.  He has been a backup for the Cowboys for four of the last five years.  He was undrafted out of CMU in 2017.
Cooper had a stellar career at Central Michigan, throwing for almost 13,000 career yards and 90 touchdowns in his four years in Mount Pleasant.  He started 49 games as a Chippewa, leading them to two bowl appearances.
Before his time at CMU, Rush led the Lansing Catholic Cougars to a pair of state runner-up finishes in Division 5 in 2010 and 2011.  He threw eight touchdowns against Dowagiac in the 2011 Division 5 regional championship game.  He also played basketball during his time in high school.
With the victory, the Cowboys move to 6-1 on the season.  They lead the NFC East with that record, and they're 1/2 game behind the Green Bay Packers and the Arizona Cardinals for the top spot in the NFC.  It is unclear whether Rush will start for the Cowboys when they host the Denver Broncos next Sunday at AT & T Stadium.
Michigan's Greatest Sports Traditions
Part of the allure of sports is the sense of tradition, and these Michigan traditions are something that fans look forward to every year.